July 9, 2013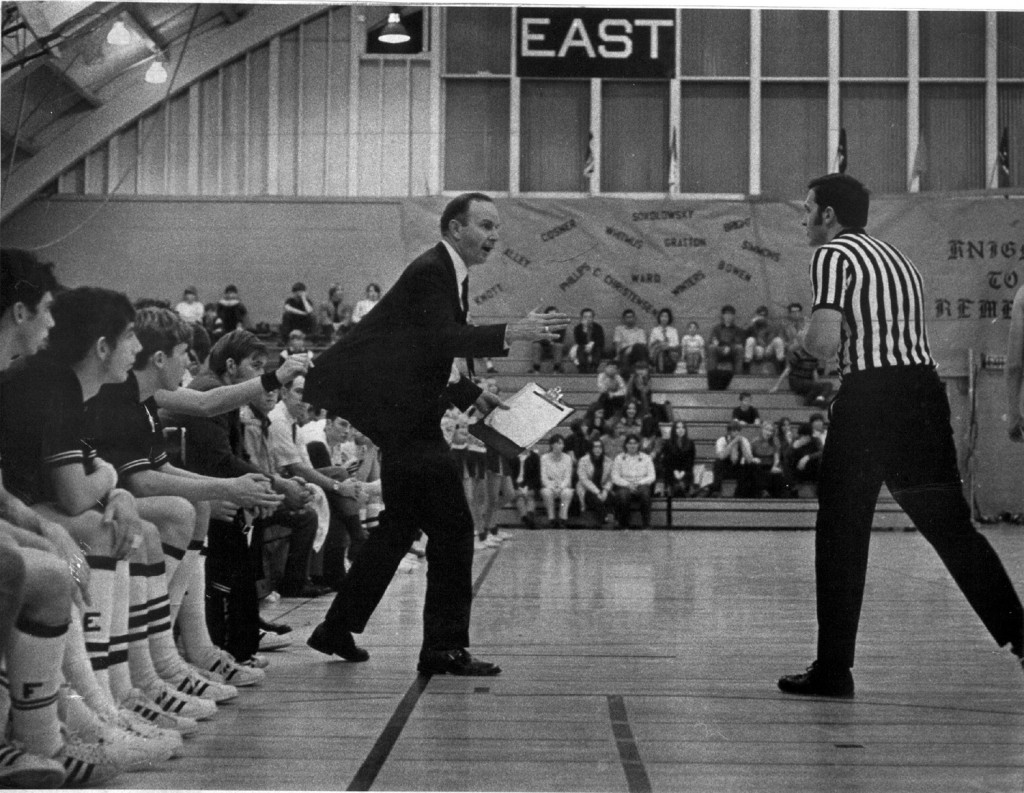 Les Eathorne is pulled back in this famous photo that soared around the world. The referee is Lloyd Pugh. It's not clear who was pulling on Les' jacket.
Editor's note: Les Eathorne grew up in Bremerton, played basketball for legendary coach Ken Wills and was a junior on the 1941 team that won the state championship. He played basketball at the University of Washington and began a 41-year-career as a head basketball coach at Camas High School in 1950. In 1956, Eathorne returned home to coach at East Bremerton High School, which opened for the first time that year. He coached East to back-to-back state championships in 1973-74 and when East and West Bremerton merged back to Bremerton High School in 1978 he coached there until 1988 when he retired. He later severed as junior varsity coach for head coach Jim Harney at North Kitsap and then for two years was the head coach at Olympic High School. Eathorne also was athletic director at East High and was named the National AD of the year, an honor he was most proud of. The Bremerton School District named the Bremerton High School Gymnasium after him. He's in the Washington State Coaches Hall of Fame for Basketball and also is in the Kitsap Sports Hall of Fame. Eathorne died July 5 of 2010 at the age of 86 from the affects of COPD and congested heart failure. This three-part series with Eathorne was first published in the Sports Paper in August, September and October of 2006, and it has not been edited so it stands as if he was still alive. This is Part III as we look back at the life of one of the great coaches in state history.
THE LIFE AND TIMES OF EATHORNE:
A Conversation with Les, Part 3
The impact Ken Wills had on Les Eathorne can't be underestimated. Wills was Eathorne's basketball coach at Bremerton High School and when it came time for Eathorne to face the real world, he looked at what Wills had done and the life he lived and said to himself that might be the way to go.
And that is the way Eathorne, a 1942 graduate of Bremerton, went. He dived into coaching like his mentor, first at Camas in Southwest Washington and then back to Bremerton in 1956 when East High opened its doors.
It would be another four decades before Eathorne would finally put away the basketballs for the last time. In that span, Eathorne became every bit the legend Wills had become in his 26 years as Bremerton coach.
In retirement, Eathorne rests comfortably at the East Bremerton home he shares with wife Pat, commanding a view of the waters surrounding the city and the big ferry boats coming and going to Seattle from downtown.
At the age of 82, Eathorne still follows high school basketball through his stepson, Casey Lindberg, now into his second tenure as head boys basketball coach at Bremerton. You can generally see Eathorne at the southeastern end of the bleachers during Bremerton home games, rooting for the Knights. Often, he is surrounded there by friends and other retired coaches, all of who are taking mental notes on the strategy of the game.
TSP: When you graduated from the University of Washington, what were you looking to do with your life?
LE: I didn't want to work. I watched Wills work with kids and I thought that he is just playing and having a good time and enjoying himself. I had worked in the shipyard during summers and that was work. I looked at Wills and he was living in a nice house; that seemed to be the way to go. I certainly didn't want to be a farmer (like his mother's family was in Walla Walla).
TSP: How did you get the job at Camas?
LE: What happened is I got an interview at North Kitsap, but it was too close to home. One of my teammates, Bob Bird, got the job there. For some reason I thought I wanted to get away. They called me up one day. Clifford Duncan called and wanted to talk to me about the job at Camas. I didn't know where it was. We had just gotten a house on 81st and 8th (in Seattle) out past Roosevelt High School. He was coming over for dinner. It was kind of funny. My wife at that time, Jackie, and I sold some Coke bottles to get money to buy some meat for meatloaf and a couple potatoes so we could have something to eat while he was here. When the superintendent of schools visits and you need a job, it's not a good idea to give him a dead fish. So she hustled around to make a good dinner. He enjoyed it. Clifford told me that the job didn't pay that much. He needed a social studies teacher and a basketball coach. He hired me. Then he asked me if I knew anybody who wanted to be an assistant. I told him Art McCarty. So Art assisted me in basketball, and we assisted in football. But I assisted just that one year. I didn't know a thing about football. But McCarty did. He was a good coach.
TSP: How did you land back at Bremerton?
LE: Dwight Scheyer called me up and asked if I was interested in the East job. They were opening a new high school. I had just interviewed at Centralia. I wasn't too interested in that. I was interviewed by four or five ex-coaches. My God, coaches seem to come and go there. So I didn't want to go there. I never wrote a letter asking for a job. They asked me. Scheyer asked me to write a letter saying I was interested. I was. He had my records from the University of Washington. I had never been in trouble, never robbed a bank. And Wills really helped me. But the guy they first offered the job to was Jack Dunn. He was coaching at the junior high (Coontz). He didn't want to go up to the high school. He wanted to go into administration. I thought almost all the years I was there I was the first choice. Well, one guy, just before he died, told me I wasn't. I don't want to say who it was. There was no reason for him to lie. And I think Dunn would have been a great coach. He played at Bremerton. Trouble is, they should have not let me go all those years thinking I was God.
TSP: What was it like, coming back home, coaching that first year at East? Did you have goose bumps?
LE: No, I knew I had a team. I knew I had 12 players in black and white (school colors) who could play. I didn't have that many good players in seven years at Camas. We had kids who could play (at East). They were tough and wanted to win. And they felt they were being put upon, because they weren't getting to play for the other school (West). It was awful nice to have a cross to bear. They didn't want you, but by God we wanted you. We had Lyle Bakken, Lowell Mahugh, Dan Stautz. His brother made all-state at Port Orchard. Ron Olson, who was 6-5 and went and played at Idaho State and Bob McLean. First year we were much better than expected. I didn't think it was very good. I think we won about half our games.
TSP: Ken Wills was still coaching (at West). What was that like to go against Wills? How did you do against him?
LE: First time we had them beat. Took them to overtime (Les' memory is slightly off; West beat East 49-36 in regulation time that first meeting, with West's Denny Strickland scoring 19 points; the same night, Wilt Chamberlain scored 30 points as Kansas beat the University of Washington in Seattle, 77-63). The next year we beat them on their floor, and they beat us on our floor. Full house. Just crazy. That first win was the first win in anything over West. From then on, I think our kids thought we could beat those guys. I found out it's much easier to lose against somebody you like that much. After that first game he came up and put his arm around me and said, "Your kids played great." When we beat them that next year, I didn't know what to say. I was embarrassed and ashamed, and felt bad for him. He just laughed about it. "You outplayed us," he said. He was just really good about it. But I didn't know how to handle it. I imagine it would be like going against your father. You like to win, but … And he was a great coach and very much a gentleman. I'm just sorry that over the years I couldn't talk to him and tell him I have this problem. On Fridays or Saturdays we would sit down and talk and go over how to do this or that against this or that team. He bought a house in Manette and we would go down in the basement and sit and talk. We would have hot rolls and stuff. I'd ask how do you beat these guys? We'd just sit and talk about the game. Sometimes you get mad at the other guy (coach). I never got mad at Wills. I just looked at what he did and tried to do as good as he did.
TSP: How did his death affect you?
LE: Teddy McCarty called me. She worked at the Schutt Clinic with Thelma Wills. They called me out of practice, and Teddy said, "Ken Wills had shot himself." I said, "Teddy, Ken doesn't even like guns. He would never do that"' She said, "Les, he shot himself." So I had a guy playing for me – David Huguenin. He was Ken's nephew. I told him, "I think it would be a good idea if you went home and saw your mother." They lived off Perry Avenue. I just closed practice down. We lost four games that year, three of them at the start of the season, and the reason I think was (his death). I just thought this is just basketball. What am I doing? This is crazy. I'm not going to coach something that kills somebody I admire as much as Wills. What happened was very confusing. Very tough on some people. At first I was bitter. So I just went along (coaching) and pretty soon I got back in gear – probably the last three-quarters of the season.
TSP: You coached 41 years. Only Ed Pepple (Mercer Island) and Ron Brown (Centralia) have coached basketball in the state longer. How does that make you feel?
LE: I didn't care about that. I probably would have coached longer. When we moved to the new building (1988, when the current Bremerton High School opened at its present location), I saw no point in going over there (from East Bremerton) and setting up with a new administration. If we would have stayed at the East building I would have stayed longer. I would have coached for a couple more years. I didn't want to go to the new building. Also, I thought it was as good of a break in time as any to allow somebody else to develop their own program.
TSP: There have been significant changes made in basketball during the years since you first started out as a kid to now. Two-handed set shot to today's game?
LE: When I was in junior high they eliminated the center jump after each basket. That was a big change. Next they widened the free throw line so you couldn't camp in there. Then the 10-second rule. That was a very big change. Then, of course, the dunking. At first it was illegal. Then when it became legal, it certainly changed the game. The referees of the 1950s would go crazy today. The kids nowadays, if you watch it like I have, they travel all the time, or palm the ball. They come to a stop, and foot slips. But, also, we didn't play at the speed they do now. I don't like the roughness of the game now. I don't mind it in the pros. But I don't like it college or high school. It's amazing to watch kids watch a game. They're not bothered. The kids bought me a seatbelt and strapped me to the bench. For a year or so in the 1970s. They said, "You have to have something to restrain you." It was embarrassing too. I was getting technicals and I don't think the administration liked it too much. What the hell, maybe they were right. Now if I were still coaching, I could walk up and down the side, go have a drink, and sit back down. Back then we had 36 inches.
TSP: Would players in your day be able to step right in and play with today's kids?
LE: Fundamentally they would. But we didn't have the jump shot. We drove to the baseline as well or better. We could shoot the outside shot, but not as accurately. The thing I notice now is the great change in baskets. Three corner-shot. That was a tough shot when I was in high school. Now you get a kid a three-point shot from the corner, he's going to make it usually. One of the other things that is interesting, they went from four to five fouls. When I played it was four fouls and you were gone.
TSP: This area has produced some great athletes: the Sorianos, Lees, Tappes, Heinrichs. Who would you put in this category with these four.
LE: In all fairness to all those guys, and they are great players, the one I admire the most is Soriano. The reason? He was consistent, tough, a great defender, and an outstanding shooter. And a very, very good leader. He had it all. But the best one was probably Marvin Williams. God gave him height. Must be easier to shoot downhill than uphill. Marvin is a great kid. He was the best player I ever saw in Bremerton. There were others. Bill Morris was a great player. Alan Maul. I try to tell people that we had about 30 players who could have played for any high school in the state. We only needed 12 to make the Bremerton team. Rick Walker, you had to watch him. I kept waiting for him to make a mistake. The thing was, he was so smooth. He could be tough when you wanted him to be. You could not intimidate him. Could jump within reason. And very much a team player. Almost too much so at times. And just a great guy to play with. The fact is, if Walker and Soriano could have played together, I don't know who would have beaten them. Soriano got the ball to the open man. So did Walker. But don't know who is best. The last 10 years, nobody could compare to Williams. Before that, there were so many who were extremely good. Hal Lee was an All-American. How can you argue with that? Bill Morris was an All-American. How can you argue with that? For somebody who has watched the best players, I'd go with Hal Lee, Bill Morris, certainly with Marvin Williams, then Soriano. A lot of people would go with Tappe. I don't know if Tappe was better than Frank Wright, who played when I did. He played very well.
TSP: Who were some of the great coaches you coached against?
LE: Ken Wills was the greatest. I didn't spend a lot of time to become friends with him, plus when push came to shove I didn't want to like somebody who was better than me. The guy at Bainbridge, Tom Paski, was as good as they got. I thought he was very good. I liked him very much. The last years I have liked Jim Harney. Never when I competed against him. I didn't think I would become friends with him as I am now. Guy at Sequim who died was a good one, Rick Kaps.
TSP: How have sports shaped you as a person?
LE: One of the greatest shocks of my life was when I came out of Bremerton on an athletic scholarship to the University of Washington. I admit I thought I was a pretty good student. We go over there, line up and there were about 60 to 70 kids turning out for the basketball team. Tubby Graves was running the practice and coach Hec Edmundson was sitting against the wall. There were so many all-league and all-state players. I thought, "Oh, my God. I think I better wake up here." It was impossible to relax; there were so many great players. If you had the academics and had excellent coaching like I had, and loved the game, you should be right with them. I couldn't be intimidated by anybody. I certainly had great coaching. I thought I would succeed.
TSP: If you could put one thing on your tombstone, what would it say?
LE: He tried. That is the way I always did it. I tried. I figured if I tried hard enough, I would do it. So I would try hard.