| | | | | | | | |
| --- | --- | --- | --- | --- | --- | --- | --- |
| Last Name | First | Grade | Jersey # | Pos | Total Pts | Gms | Avg PPG |
| Bergsma | Mark | Jr | 15 | G | 216 | 21 | 10.3 |
| Baxstrom | Curt | Sr | 25 | F | 7 | 19 | 0.4 |
| Chrey | Brian | Jr | 35 | F | 16 | 13 | 1.2 |
| Davis | Don | Jr | 53 | C | 133 | 20 | 6.7 |
| Ellison | Jeff | Jr | 23 | G | 109 | 20 | 5.5 |
| Hassett | Kevin | Sr | 55 | F | 128 | 20 | 6.4 |
| Larson | Tim | Jr | 33 | G | 34 | 16 | 2.1 |
| McDonald | Brian | Sr | 41 | F | 355 | 21 | 16.9 |
| Olson | Kurt | Jr | 51 | G | 197 | 21 | 9.4 |
| Shaw | Steve | Sr | 31 | F | 22 | 14 | 1.6 |
| Thornburgh | Mike | Jr | 43 | C | 200 | 21 | 9.5 |
| Wright | Larry | Jr | 21 | G | 21 | 15 | 1.4 |
1978 Roster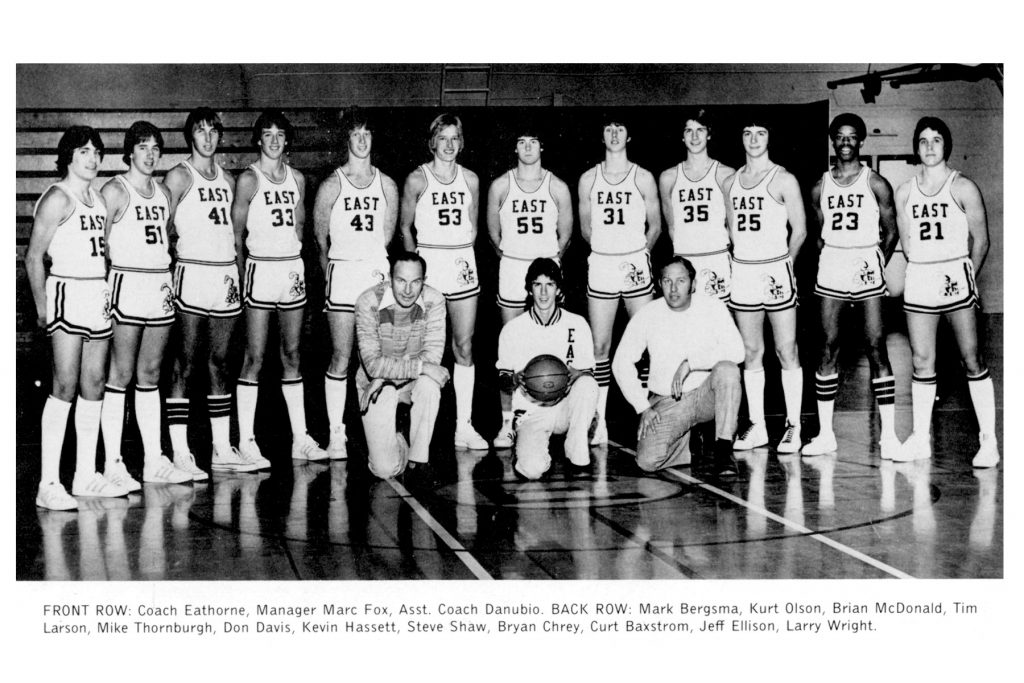 The 1978 season would turn out to be the last season for East High School and Knights basketball. Due to reduced enrollment, the school administration finally decided that East and West high school would merge in the fall of 1979. This consolidation had been in the works for several years.
I believed that we would have become one school back in 1974 if it had not been for the 1973 season and winning the state championship. Within a couple of weeks of winning the championship, the proposed levy that looked like a goner, was passed and we stayed put on the Eastside of Bremerton. Winning the state championship again in 1974 probably bought us more time but this consolidation was inevitable.
We had a nice closing season finishing 15-6. A solid accomplishment given that we started four juniors and one senior and that these kids played against the backdrop of twenty-two tradition filled seasons and an unknown future.
It was coming to an end and the team were totally convinced and the coach too that we were going to move to the West building. And so I had all the stuff packed up and ready to go in boxes labeled so we could move them over the West High School. At the last minute, they moved Bremerton High School to the East building. That was a complete surprise when I found out about it. I said, "Oh you're kidding me?" "No, it's the truth." "No it's not." "Yes it is." And I said, "Well…how did they do that?" Everybody was firmly convinced they were going to go the West building and then we come over here."
In 1978 our only returning starter was forward Brian McDonald who was a senior. McDonald was a player. He lived right down the street from me and could play the game. We started four juniors: Mark Bergsma and Kurt Olson at guard, Don Davis at center and Mike Thornburg at the other forward.
One of the smarter players; he is not the best because I don't know who's the best …but Bergsma.  Bergsma was probably one of the best all around athletes I ever saw at high school.  He could play baseball extremely well; he was an excellent football player and a very good basketball player and he was tough in all of them. I admired Bergsma very much.  He's a good guy.  Don Davis was tough.  He was a good center for us.  He wasn't extremely tall but he was tough; a good football player too.  Kurt Olson could do the job.  He fluctuated so much.  Sometimes he could keep you off balance.  Mike Thornburgh could play and he was one of those kids that later got caught up I think in the move between East and West.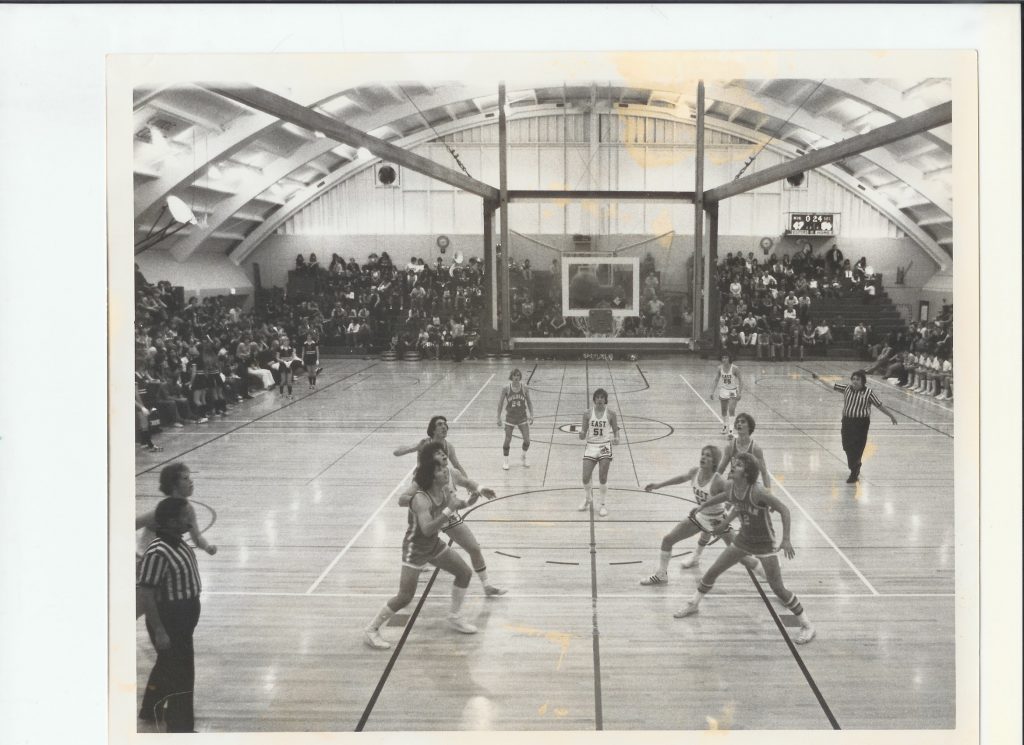 The starts were backed up by Curtis Backstrum, and Bryan Chrey who moved over from the Westside. I said "Don't you go to West?" And he said, "No, I'm going to East." I said, "Well no, you just don't come across that way." And he said, "No, my folks moved over here." So they moved over here so he could play ball for us and he did a good job. Jeff Ellison was one of those guys that we've had every once in a while that could overrun a layin; ya know he could go so fast.
Kevin Hassett played forward and center for us. He was a good tough kid, smart and could play the game. Kim Larson, one of the favorite kids you have on a team; not very strong but could shoot the ball okay. One time he would play beautifully and the next time…What's he doing? Steve Shaw was a good practice player who didn't get in the games very much. Larry Wright I remember was a left handed player and he had his moments but he didn't play very much either. You'll notice by the scoring that there were kids in here who were just part-time players but good kids.
We finished 9-3 in the league, split with West, swept Sequim, South Kitsap, Port Angeles which was great, and we split with Central Kitsap. Our struggle came against North Kitsap. We won the first game by plenty, lost the rematch by four and then faced them again in league playoff and lost by fourteen. Sounds like coaching.
My feeling is that these kids played well considering the big change they faced in losing their school. In the end, it may been too much for them. We finished the reign of East High Knights basketball on a solid and winning note and I was proud of how they played and handled themselves under the circumstances.
| | | | | | | |
| --- | --- | --- | --- | --- | --- | --- |
| Opponent | We | They | We | They | We | They |
| O'Dea | 96 | 61 | 76 | 68 | | |
| Hoquiam | 82 | 61 | 81 | 78 | | |
| Olympia | 72 | 88 | 78 | 76 | | |
| Mt Tahoma | 70 | 79 | | | | |
| Foster | 52 | 45 | | | | |
| Sequim | 65 | 59 | 70 | 54 | | |
| North | 69 | 41 | 48 | 52 | 48 | 62 |
| Central | 47 | 79 | 61 | 59 | | |
| South | 77 | 71 | 66 | 52 | | |
| Port Angeles | 67 | 58 | 69 | 49 | | |
| West | 68 | 61 | 66 | 72 | | |