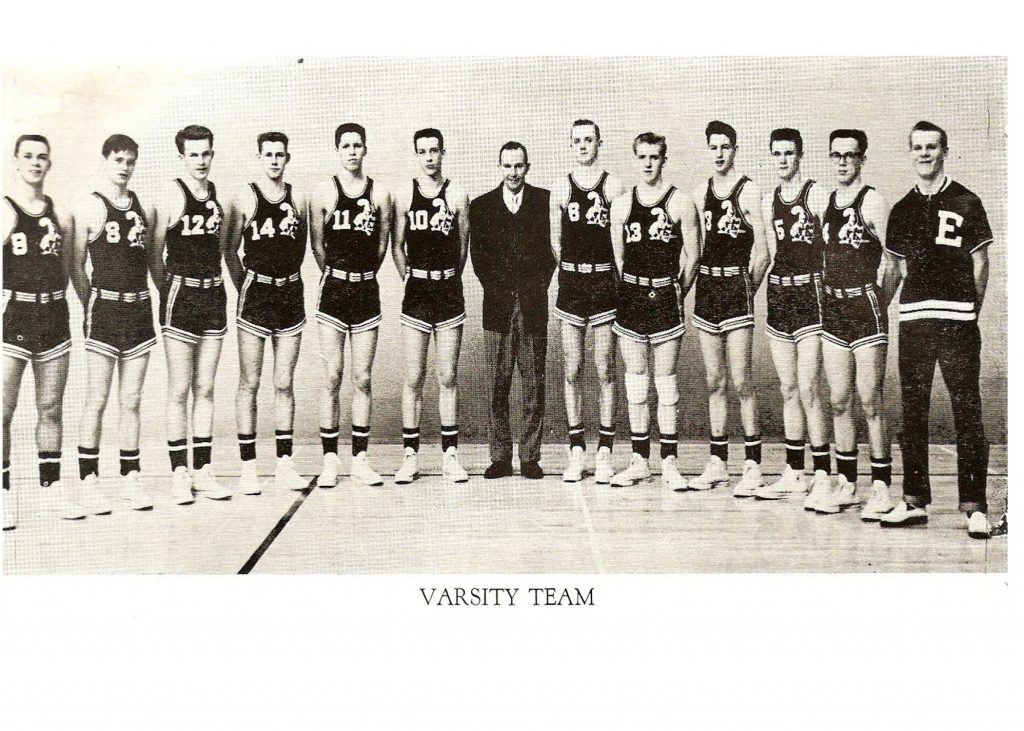 You have to start somewhere with a new school so 1956 is as good a place as any. We did not know what we had but what ever it was it looked more green than black and white. Generally we had only one boy who had even entered a high school contest. This was Bob Williams the captain. He was a fine defensive ball player and a good rebounder. Lyle Bakken, the original Knight of East, was the key to our basketball future. Through this one performer and his team mates we gained a reputation of never-say-die, run and shoot basketball. Bakken was quite hard to believe unless you knew him or coached him. He was fast, determined, and aggressive. Jim McLean was a left hander who had his moments and may have made the single most important shot ever made by an East player; when he jumped in a one hander from the side that sank Port Angeles, when they ranked second in the state of Washington. He picked the night we had a full house and our students went wild. This shot hit the twine with four seconds to go in overtime!
Jim Backs was a starter much of the time for East and was a determined guard. Ron Olson, Dan Stautz, Lowell Mahugh, Norm Cox, Sam Goudreau, and George Fouch more or less carried the burden for the year. Ken Egan and Pat Pendergast were used in reserve rolls.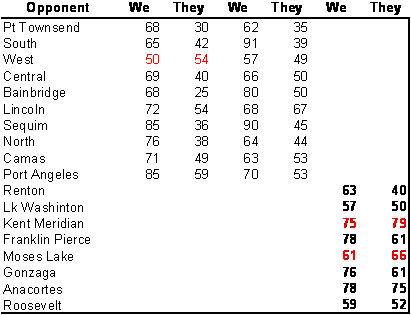 When East arrived on the scene West was the established basketball power. They played a control game with tough man-to-man defense. In order to gain a personality or our own, we were the reverse of this. We played a pressing defense with a wide open run and shooting offense. This was difficult to coach because the training the coaches had was not in this particular type of play. Toward the end of the season we could see that there were possibilities for a good team in the future. This year we had a winning season with very little experience. The players were determined and had a natural competitive instinct. They came to play. This first team set the pattern.' They gave of themselves and beat teams that I felt had more experience and poise. You have to start somewhere and I would never feel ashamed of the efforts these boys gave.