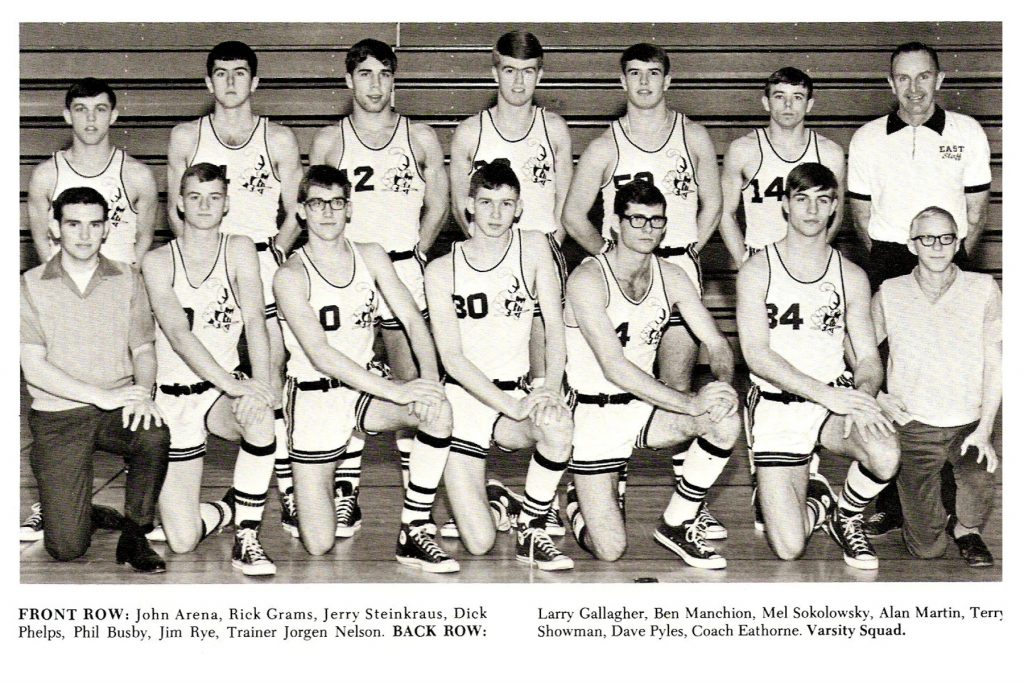 | | | | | | | | | |
| --- | --- | --- | --- | --- | --- | --- | --- | --- |
| Yr | Last Name | First | Jersey # | Pos | Hgt | Wgt | Total Pts | Avg PPG |
| 67/68 | Busby | Phil | | | | | 291 | 13.9 |
| 67/68 | Gallagher | Larry | | | | | 110 | 5.2 |
| 67/68 | Grams | Rick | | | | | 271 | 12.9 |
| 67/68 | Manchion | Ben | | | | | 39 | 2.4 |
| 67/68 | Martin | Alan | | | | | 463 | 22.0 |
| 67/68 | Phelps | Dick | 30 | | | | 9 | 0.8 |
| 67/68 | Pyles | David | 14 | G | | | 177 | 8.9 |
| 67/68 | Rye | Jim | 34 | | | | 59 | 3.0 |
| 67/68 | Showman | Terry | 50 | | | | 27 | 1.6 |
| 67/68 | Sokolowsky | Mel | 42 | | | | 32 | 1.7 |
| 67/68 | Steinkraus | Jerry | | | | | 101 | 4.8 |
| 67/68 | Taylor | | | | | | 36 | 6.0 |
| 67/68 | Dotson | Mike | | | | | 10 | 2.5 |
We came off a pretty good season the prior year and had four good players returning; Phil Busby, Larry Gallagher, Alan Martin and Mel Sololowsky. Senior Jim Rye was back after being out all last season due to injury. In addition, we added four seniors; Rick Grams, Jerry Steinkraus, Dick Phelps and Terry Showman to the team and a couple of juniors; Dave Pyles and Ben Manchion.
If you notice the first two games we went across the Narrows, which is rare. And is was rare that we beat anybody 73-36 or 74-52. Lake Washington and Federal Way were good programs.
Also this year is interesting because there were a couple of games that were snowed out. Mount Tahoma was replayed but Olympia we didn't because it got down to the only place they could schedule was down towards the end. There was no point because the tournaments were starting and we weren't going to be 18-1or 2 or something. There was just no point in doing it and also the cost of where ever the game was, Olympia or here, the cost was probably more than the value we would get from going there.
Central was a tough team this year. They beat us by 14 and then we turned around and beat them by 16. This was the year right before they won the State Tournament. I didn't understand Bob Moawad and he was a good guy I mean there is no doubt about Moawad was a good guy. But Moawad I think wrote his thesis on democratic coaching. The kids would decide the line-up before the game. They would rate the players and they would decide who the line-up was and he would just take the figures and put the team on the floor.
That year we lost to Port Angeles three times with a combined total of ten points so all three games were very close. The West games were pretty emotional too. You look at this team and the thing that comes across about 1968, and '67 too is that they were competitive. I mean we went on the floor and rarely did we get wiped out; the games were good, the crowds were big and raucous and the kids were into it and so it was a pretty good time. You look at the nine losses and six of them were by six points or less.
The North game, where we won 99-68, we had to put the stops on anyone scoring. Meaning that at some point, you get to 99 and there is still game left and you can't shoot. We had gone along and the game was fairly close and then all of a sudden I felt nobody on their team wanted to bring the ball up the floor. You know, they're so tired they don't want to dribble up the floor against the press so they'd start throwing the ball away and all of a sudden like that we're ahead by 10 and as you can see…as I can remember this, they didn't score. I just didn't think a team should be beaten by that much.
This team finished 12-9. Right in the middle of the season we had a very bad run; how we ever got to be 12-9, I don't know. Not that we didn't score points but we allowed a lot of points. We didn't play defense because we didn't believe in it. But we also weren't good enough to outscore them so it was dumb coaching I guess!
Martin started every game and Busby, Gallagher and Grams started I think. There were some players here in this year. Pyles was a definite prospect. He was good and so were Grams, Steinkraus, Phelps, Busby and the great riot act in Rye. Ben Manchion was also on the team. He came to us in the grades from Iceland. One game he got two technicals and one of them he got because he said something in Icelandic. Apparently it was obvious that it was not a complimentary statement to the referee. Evidently you didn't need to be Icelandic to know that!
Alan Martin was one of our best shooters if not the best pure shooter we had. I don't like to say that because the game has changed so much but 463 points…that's a few balls through the hoop. Grams averaged 13 a game and was tough. He only weighed about 100 pounds or something but he could play the game.
There were also a couple of players that played on and off…Taylor and then Mike Dotson came in for a couple of games. Usually it's because somebody gets ineligible. If it was a discipline problem I never liked to talk about it and then find it in the paper because I didn't think that is was something at that age that should get in the paper. I was a little bit afraid the sports writers back then and still am.
This team played about as well as they could play. They had no height; I mean sometimes we'd play Rye at center. They referred to this team as the Manette Midgets. I mean I'm the tallest one in the picture. What's really scary is that Jorgy is taller than Pyles. What is really scary is look at the two bookends up there on the top row; Pyles and Gallagher. One is the second baseman and the other is a shortstop.
No height but a lot of speed. Well we were all over them; we never stopped. Pyles was exceptionally quick and Gallagher was quite quick and he was a determined kid. I think this one playoff game against South was where that incident took place between Gallagher and the coach. We had come from way behind and we're up within two points; actually it was tied at 62 all and so I wanted to take a timeout. I always save the timeouts so that I could use them at the end. Anyhow I call them over and I say, "Okay, we've come from about 10 down now; we're going to beat these guys." And I said, "They've got the ball out of bounds; put up a mild pres, don't foul them but don't let them get it up there." There was only about five seconds to go and don't let them get up the floor but put some pressure on them. "Everybody understand?" Yeah everybody understood. They threw the ball in; Gallagher whipped around this guy; stole the ball. Now I have to be honest, I thought he fouled the kid and he went in and made a lay-in and so they packed Gallagher off the floor and when he got in the dressing room, I thought about killing him because his theory was well I had the chance and I was going to do it. Well he was depending upon the referee and I don't depend on referees but it was a very unusual feeling that I had for that kid there. I thought we had them. They were tired and we had lots of players here and so I thought we had them. And I didn't want to lose it on one call when in three minutes you got lots of calls that you can win on.
This is the time that Rye went into the band and the ended up moving. I was very much against the Knight sitting down at the end of the floor where the band was sitting; and the guy who was the Knight would sit there with a sword sticking up in the air. I kept saying "Jesus, we don't want that thing there…get him over on the side." And boy I was angry…I told the kids this time, "You guys just stay away from that sword down there!" And so somebody threw too long of a pass to Rye and Rye went up into that band and by the time he got out of there; there were about three broken trombones and he put his hand through a drum and they moved. The next game they were over on the side.Sometimes you get teams that can't finish. And you don't know why but they just don't finish well. So I would image that you could say that about this team but they were good and they were fun to coach and there were a lot of interesting young men on that team.
Yr
Opponent
We
They
We
They
We
They
67/68
Lk Washington
73
37
67/68
Federal Way
74
52
67/68
Olympia
PPD or Cancelled due to Snow
67/68
Mt Tahoma
72
65
87
71
67/68
Alums
57
49
67/68
SK Tourney (CK/SK)
68
71
89
75
67/68
Shelton
83
87
82
75
67/68
Central
79
93
92
76
67/68
West
79
85
60
72
67/68
Port Angeles
81
84
77
78
82
88
67/68
South
80
55
67
79
64
62
67/68
North
83
71
99
68