| | | | | | | | |
| --- | --- | --- | --- | --- | --- | --- | --- |
| Last Name | First | | Jersey # | Pos | Total Pts | Gms | Avg PPG |
| Arena | Richard | Sr | 41 | F | 373 | 25 | 14.9 |
| Eathorne | Mark | Jr | 15 | G | 22 | 17 | 1.3 |
| Fisher | Dave | Sr | 53 | C | 54 | 18 | 3.0 |
| Garinger | Bryan | Jr | 45 | F | 41 | 17 | 2.4 |
| Hackett | Ray | Jr | 23 | G | 30 | 17 | 1.8 |
| Hegland | Dan | Sr | 31 | G | 146 | 25 | 5.8 |
| Hussey | Jon | Sr | 35 | G | 35 | 16 | 2.2 |
| McKenzie | Clif | Sr | 21 | G | 233 | 25 | 9.3 |
| Olson | Kevin | Jr | 51 | F | 190 | 24 | 7.9 |
| Torseth | Rick | Jr | 33 | F | 32 | 16 | 2.0 |
| Walker | Rick | Jr | 55 | C | 366 | 25 | 14.6 |
| Walthall | Mike | Sr | 25 | F | 332 | 25 | 13.3 |
1973 Roster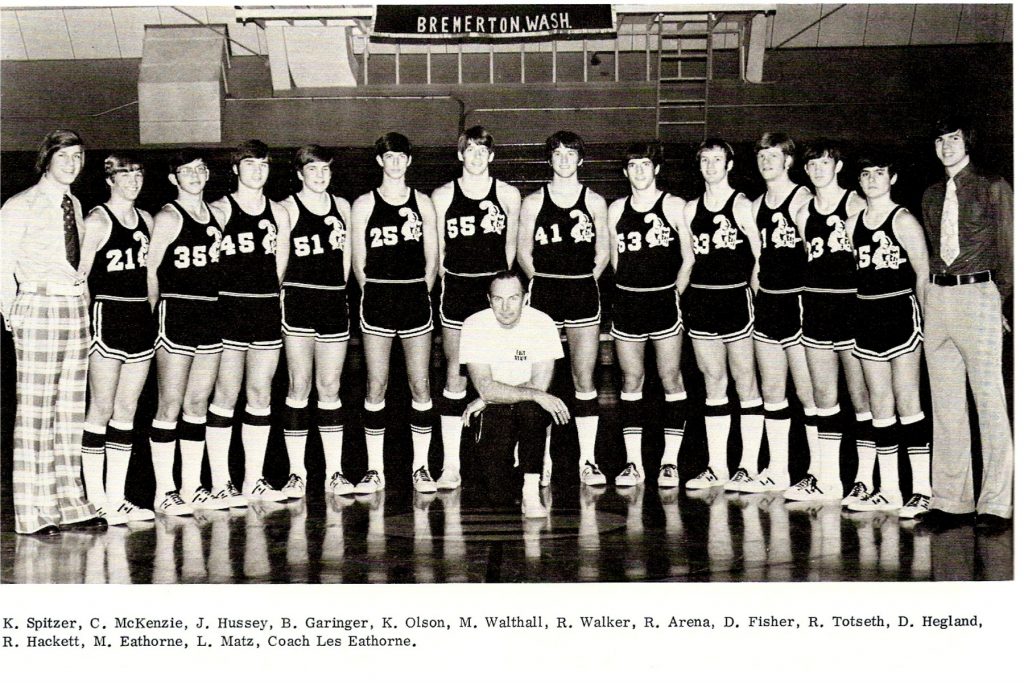 The thing is one team develops another team. So 1973 actually started way back in 1972. We had surprised many people in '72 when we finished in second place at the state championship. We entered 1973 with essentially five returning starters. We lost Brant Gibler to graduation but we still had Clif McKenzie and Dan Hegland at the guard position, Richard Arena and Mike Walthall at the forwards and we moved Rick Walker to center. All entered 1973 as experienced players.
To this group we added seniors John Hussey at guard and Dave Fisher came on to back up Walker at center. We added juniors Kevin Olson, Bryan Garinger and Rick Torseth as forwards and Mark Eathorne and Ray Hackett at guard. These players had a very successful junior varsity season in 1972 so our prospects look good for the 1973 season.
The big difference in 1973 was that we would not be sneaking up on anyone. But when you ask if I thought we would win the state championship? No, but I thought we'd be in the finals or the semifinals. I thought, we're going to be there and the reason was that these guys were consistent. They weren't going to play a really bad game and if they played a really bad game; they could win playing a really bad game so we were lucky. Certainly the Lincoln game, the only game we would lose, was not a real bad game; that was a great game.
But everybody was after us. The one thing is that you watch somebody like Duke or North Carolina, every game they play is a bloody mess. Well there wasn't a team around; I don't care if it was Podunk or Sequim; that wasn't after us. And then it's a lot of fun to win. This team met those challenges every time we played a game.
When you only lose one game, there are plenty of wins but some of our wins in 1973 were special. We beat West twice. At their place they came out in stall and forced us to play at a slower pace and a different style than was natural for us. That was a good experience because later in the season, Port Angeles stalled as well. We had great success against Central Kitsap, met the tough challenge of South Kitsap and won a big mid-season game against Timberline at their place.
As the season progressed, we turned into a "six starter" team with the development of Kevin Olson. We could use him at forward to spell either Walthall or Arena or he would come in to give Hegland a breather and I'd move Walthall to guard. Fisher became Walker's understudy and I would say honestly that Fisher was the best jumper we had. The rest of the reserves gain valuable experience practicing against this group of starters every day and they also saw plenty of playing time since we won many of our games by large margins. This game experience would be very helpful the next year.
We were ranked one or two in the state for most of the season so entering the tournament; we were both a favorite and a target. We started with a big win against Foster, but then we played our closest game of the year beating Juanita by two points. We won the district tournament when we beat Curtis who was becoming our annual post season rival.
We returned to St. Martin's College for the regional tournament beating both Tumwater and Enumclaw in close games in which we did not play up to our ability. But again we were a consistent team and that helped us win these games. We had also developed a confidence in ourselves and in our style of play. We were not big headed but we believed we could win every game we played if we played our style and played together.
Next up was the state championship where we faced two teams we had played earlier in the season. In the semi-finals we had a rematch against Juanita. In the week leading up to the game, it was reported in the Seattle papers that the Juanita team believed they had discovered how to beat East after playing us earlier. That discovery turned out to be false as we played our most complete games of the season and won 83 to 68 and it was not that close.
That win matched East against Timberline for the state championship. We had played them earlier and won in their gym. They were a very good team that blended height with skill. This game was all a state championship game should be. It was well played and it was close all the way to end. With game tied at 52 we had the ball with a minute and half to play. We were shooting at the other end of the court from our bench and with a loud, packed University of Puget Sound Fieldhouse; it was difficult to communicate with the players at the other end of the court.
But if there was ever a moment in the history of East Knights basketball that modeled how we play, this was it. McKenzie took control of the floor and signaled that we would play for the last shot. At the same time this coach and the rest of the team yelled, screamed and waved towels in an attempt to get their attention to call timeout.
As the clock ran down and Timberline stayed in their zone defense, we moved the ball around the parameter with McKenzie controlling the flow and Arena running the baseline. As anyone who's ever played for East knows, when the clock reaches 10 seconds, it's time to "go." In this case, go was a pass to Kevin Olson who found an open seam in Timberline's zone that gave him a clean eighteen foot jumper. His shot was true but just a touch long.
What happened next is captured it with two beautiful pictures by Richard Ellis, a photographer for the Bremerton Sun. The Ellis photographs show Richard Arena, who is boxed out by a taller Timberline player, go up and over him and tip the ball back to himself. Richard then goes straight back up with the shot while the previously out rebounded Timberline player has both his hands in Richard's face. No worry.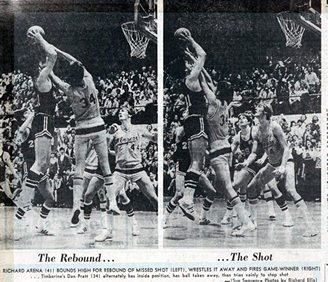 It's Arena, a player we all came to know as the "one" who would do the impossible. He banks the shot off the board and through; we win 54 to 52 and return home to Bremerton with the first state championship since 1941. A great season.
Hall of Fame Story
Opponent
We
They
We
They
We
They
Franklin-Pierce
89
67
Mt Tahoma
81
62
78
69
Lincoln
80
86
Washington
66
57
Bainbridge
67
59
85
55
Timberline
65
52
54
52
North
87
48
79
59
West
48
30
61
40
Central
82
39
80
58
Port Angeles
72
56
47
28
O'Dea
88
52
93
57
South
65
49
60
52
Foster
92
52
Juanita
78
76
83
68
Curtis
78
58
Tumwater
65
56

Enumclaw

Timberline -State
Championship

70

54

66

52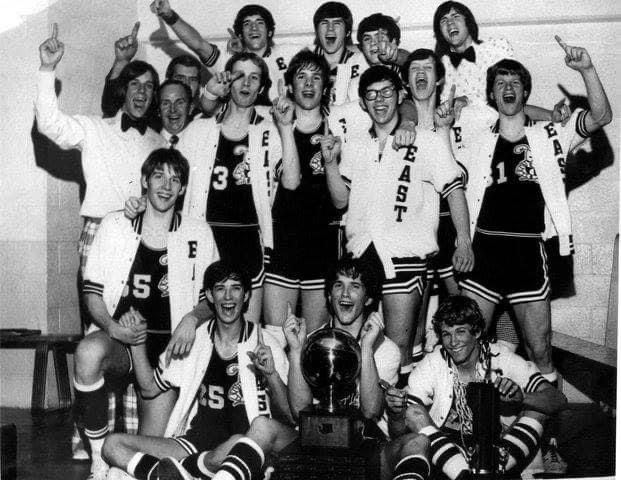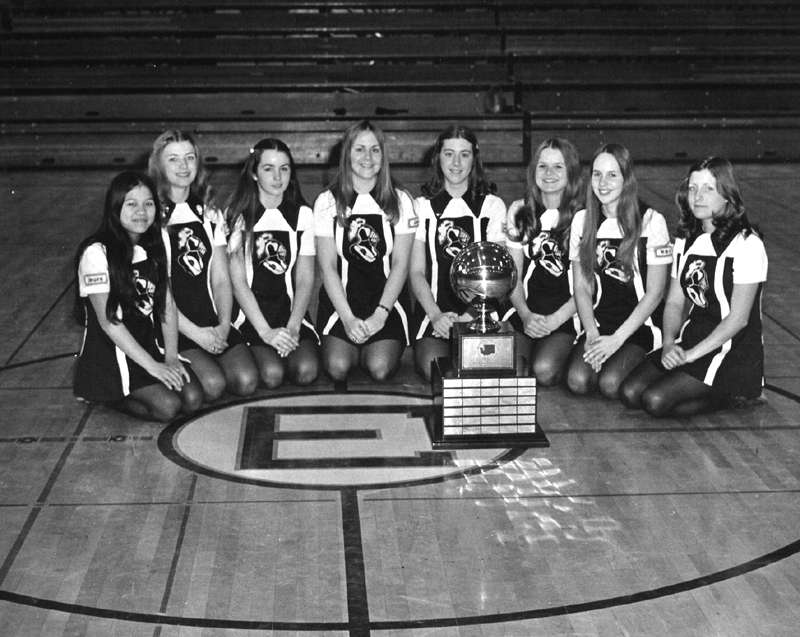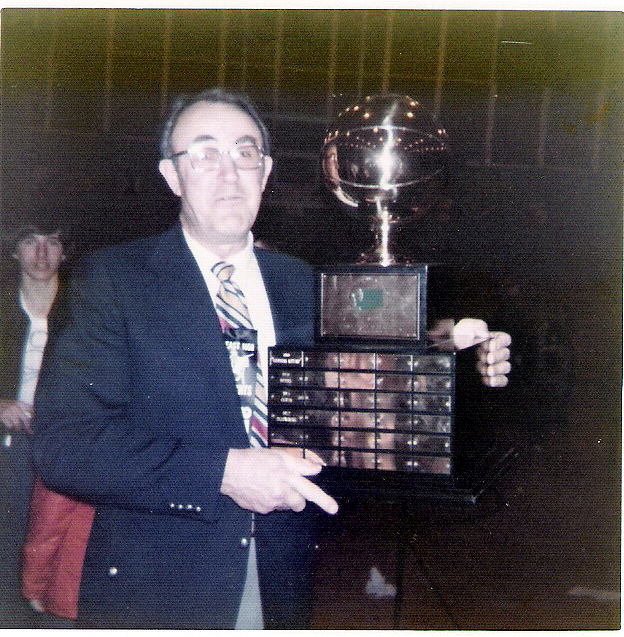 Congratulations letter from Lyle Bakken '58 – Lyle gave an personalized letter to each player on the championship team.