| | | | | | | | |
| --- | --- | --- | --- | --- | --- | --- | --- |
| Last Name | First | | Jersey # | Pos | Total Pts | Gms | Avg PPG |
| Beach | Mark | Sr | 23 | G | 67 | 21 | 3.2 |
| Bean | Dave | Sr | 33 | G | 23 | 17 | 1.4 |
| Berentsen | Tom | Sr | 31 | F | 105 | 22 | 4.8 |
| Blaisdell | Clark | Sr | 53 | F | 83 | 21 | 4.0 |
| Boyce | Steve | Sr | 43 | C | 450 | 21 | 21.4 |
| Drew | Ken | Sr | 55 | C | 157 | 22 | 7.1 |
| Eddy | Kevin | Sr | 15 | G | 283 | 21 | 13.5 |
| Gibler | Brant | Jr | 45 | C | 11 | 10 | 1.1 |
| Hegland | Dave | Sr | 41 | F | 199 | 22 | 9.0 |
| Reagan | Dennis | Sr | 25 | G | 47 | 16 | 2.9 |
| Rinke | Gordon | Sr | 35 | F | 28 | 18 | 1.6 |
| Trostad | Jim | Sr | 21 | G | 78 | 21 | 3.7 |
1971 Roster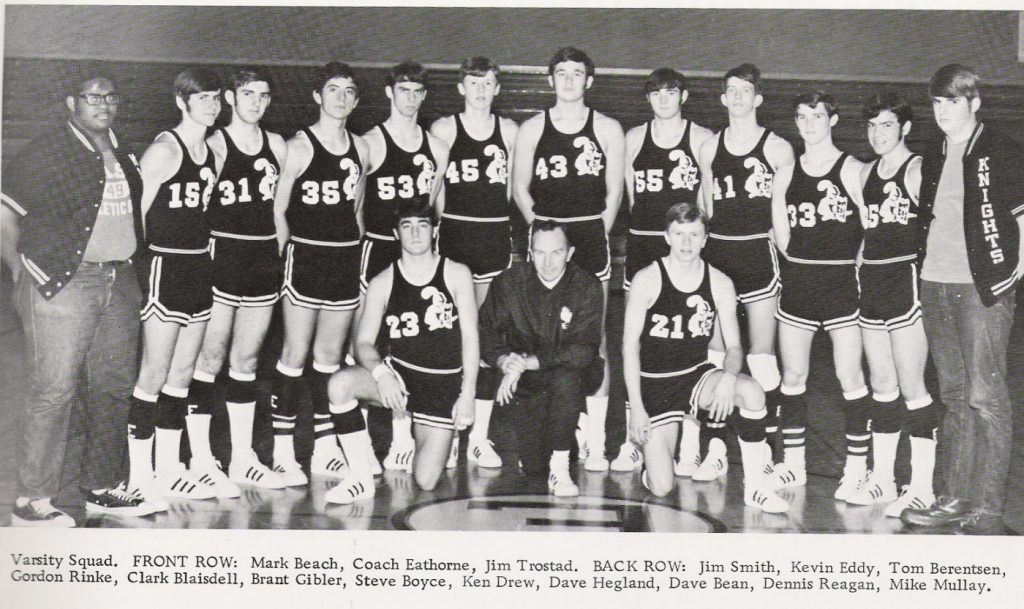 This team finished 10-10 in the regular season. We did beat West in both games, and that always makes it a good year. I remember the Burlington-Edison game that we played up there. Holy God they had a good team. I thought we should have won that game. And Mt. Tahoma had a good team and I thought we could have beat them. We split with O'Dea this year and they weren't really very good. We had a number of close losses and could easily have been 15-5 or 16-4..
The starters were Steve Boyce, Kevin Eddy, Mark Beach, Dave Hegland and Clark Blaisdell. Jim Trostad and Dennis Reagan were the first guards off the bench and Ken Drew and Tom Berentsen were the main substitutes for the front line. Dave Bean, Gordon Rinke and Brant Gibler rounded out the team. We had a lot of depth this year.
Mark Beach: No shot, one of those kids that somebody would wonder, well why was he even playing. But when you put Beach in the game, something would happen. If you didn't hustle for the ball, Beach would be flat out on his nose trying to get it and he'd make you look bad so pretty soon everybody was playing that way and playing harder.
Steve Boyce: This is Boyce's senior year and he averaged 22 points/game. He ended up the 2nd leading scorer all time at East. Boyce could play; he was a big kid and was tough off the boards.
Kevin Eddy: Oh God. There was a character I'll tell you. He was the 2nd leading scorer on this team at 13 points/game. Eddy was a fast one; he could get into a lot of things…you had to keep your eye on him.
Dave Hegland: Dave was a systematic good player and an excellent shooter
Clark Blaisdell: a tough kid; a good kid who played well.
Tom Berentsen: was a shooter; added some good scoring off the bench.
Ken Drew: Tough kid. liked to mix it up under the boards. He started a couple of games for Boyce and had a pretty good average for the year at 7 points/game.
Jim Trostad: Was the quarterback on the football team. A smart kid who could run the offense.
Dennis Reagan: The other half of the second unit guards along with Trostad. Didn't score a lot, but added a spark when we needed it.
Brant Gibler: He wasn't as big this year as he got the next year. Melba was probably still burping him when he got his uniform. I yelled at Gibler more than I did any other kid and the fact is I don't feel too good about that. But he had talent and if you could get him mad enough at you or the other team he could play.
Dave Bean: good kid, not a bad shooter, a good jump shooter. Not very tall but he could really jump that kid.
Gordon Rinke: He played better than he could play. I mean, he would get into a game and he'd do real well and then you would watch him in practice sometimes and he wouldn't do very well at all.
We made it to the regionals at Pacific Lutheran University. We played Foster the first night and won in overtime 72-70. In the region final we played top ranked and undefeated Curtis. We lost that game 90-81. But we learned something from that game against Curtis. We learned how hard you had to play because Curtis played harder than we did. It was a great game but the fact remains that right down towards the end, they had the push and we didn't have it and so after that I started working harder on the kids on conditioning. Curtis went on to win the state tournament. Central Kitsap got seeded into a different region that year and finished 3rd. We had beat Central both games, 83-76 and 86-69. It just goes to show you that the best team doesn't always get the best finish.
Opponent
We
They
We
They
We
They
Evergreen
72
64
63
74
West
71
64
72
69
Mt Tahoma
61
74
75
76
South
68
64
62
70
Burlington Edison
60
62
51
70
Bainbridge
67
72
78
68
Port Angeles
60
65
58
63
Central
83
76
86
69
O'Dea
55
58
61
42
North
81
55
99
74

Foster – Post Season

Curtis – Post Season

72

81

70

90