| | | | | | | | |
| --- | --- | --- | --- | --- | --- | --- | --- |
| Last Name | First | | Jersey # | Pos | Total Pts | Gms | Avg PPG |
| Arena | Richard | Jr | 41 | F | 245 | 19 | 12.8 |
| Cook | Barry | Sr | 33 | F | 14 | 9 | 1.6 |
| Gibler | Brant | Sr | 45 | C | 253 | 19 | 13.3 |
| Hegland | Dan | Jr | 31 | G | 94 | 18 | 5.2 |
| Kerstetter | Jim | Sr | 23 | C | 39 | 19 | 2.1 |
| LeClair | Doug | Sr | 35 | F | 20 | 9 | 2.2 |
| McKenzie | Clif | Jr | 21 | G | 171 | 19 | 9.0 |
| Milovich | Tony | Sr | 15 | G | 35 | 14 | 2.5 |
| Springer | Allen | Sr | 53 | F | 12 | 8 | 1.5 |
| Walker | Rick | Soph | 55 | C | 232 | 19 | 12.2 |
| Walthall | Mike | Jr | 25 | F | 194 | 19 | 10.2 |
| Wilcoxen | Gary | Sr | 43 | G | 47 | 13 | 3.6 |
1972 Roster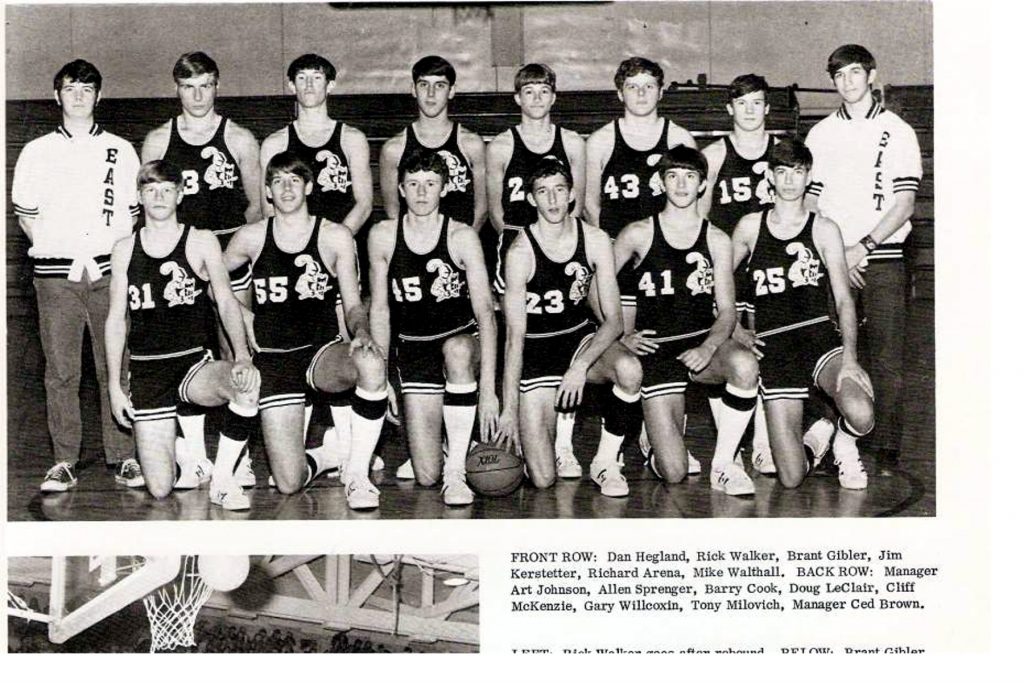 The team was Rich Arena, Barry Cook, Brant Gibler, Dan Hegland, Jim Kerstetter, Doug LeClair, Clif McKenzie, Tony Milovich, Alan Springer, Rick Walker, Mike Walthall and Gary Wilcoxen. Only Gibler was coming back from the previous year. Arena, Hegland, McKenzie and Walthall were juniors and Walker was a sophomore. I don't normally have sophomores on the team as I think this is only the third time I've done it. But Walker showed a lot of potential in the try outs. The starters at the start of the season were Gilber at center, Cook and Arena at forwards and Milovich and Wilcoxen at guards.
This season we were 13-7 through the regular season. We started out not too well and then all of a sudden, things started fitting together. One of the main things that happened was that the center started to grow up. Gibler started to grow up and then one of the most amazing things that happened was Barry Cook. We went along with Cook as a starter because he was senior, he had been there and he was just a hard working guy and a good kid. I didn't want to move a senior out even though I knew this guy named Walker was better. I would work Walker in early in so I didn't think much of it. The kids didn't really know but Barry Cook came up to me after a practice one night and he sat down in that little office I had there and he said, "Ya know Coach," he said, "I love basketball, but I really love to win." And he said, "You're gonna have to put Walker in the game." And what I was trying to do was work him in slowly, I didn't want to knock Barry out of there because he gave a lot of good service. And I didn't think that we were going to be that good. Well, then we got Walker playing all the time and Gibler started to grow up. And when he started to grow up he started doing the job that we knew he could.
McKenzie was the brains of the outfit. I mean he was probably smarter than the coach. And we had the best middle guy on the press that we have ever had and that was Dan Hegland. Hegland was convinced that the reason he was so good at the middle of the floor was that he had played defensive halfback in football when he was a Peewees. He would get back there and his head would be going back and forth and when that guy started looking, he would out guess him. That ball would come up and Hegland would get it and off we'd go.
Walthall was just left handed. When he came over the mid line, he never met a shot he didn't like. So you really had to watch Walthall but Arena was really just developing and he was a major college football player. Not knowing that much about football, I didn't know exactly what the job of a tight end or something did. But apparently, the tight end blocks down on the tackle and Arena could knock him out of there. So I assumed that Arena was a football player when basically he was a basketball player because he was one of those kids who was always the hero. I mean the women, even the older ladies, loved Arena. If I didn't put him in and play him right, by God, I got hell when I got home. He was the lady's man of the team. But he could shoot and made some very clutch plays.
We had the role players in the rest of the team too. Kerstetter, they call him Turkey, was in a world of his own. Kerstetter could play if he got his mind set on it. LeClair was a good player; you had to watch him because he would do what the coach told him. Springer was just Springer and a good kid. Milovich was basically a baseball player and Wilcoxen could play as well. Wilcoxen was a real good addition and an excellent challenge on the coach because his opinion of his ability and my opinion of his ability were quite different.
We started out slow. 1971 had been a pretty good year so you're going to '72 and I thought we would get to the district tournament. I did not think that we would get to the state tournament because we would have to go through Curtis and we would probably have to go through a couple of Tacoma schools to get there but there was one thing that they developed and that was a tremendous competitive instinct against O'Dea and a terrific one against Curtis.
We lost to West once and beat them once. I thought we should have beaten them both times. We were a better team than they were. We didn't worry about Central Kitsap or North Kitsap. We worried about Port Angeles and West.
We went into the playoff and beat Anacortes. Next up was Curtis. That was a very tight game and just as I thought our competitive instincts won out. We got out of there with a one point win. Then we had a tight game with Marysville before playing Ellensburg for the title game.After the State Tournament they met us out at Gorst with the fire department and we had lost…I mean we lost! And it was a train of cars all the way from Gorst. It was a very unusual feeling. We went into the gym and they had a pep rally and yet we lost! God Almighty…I couldn't believe that but everybody was enjoying themselves so I thought, well get with it Coach. Like anybody else who is really into coaching, I can't remember the good plays that I called or that we made, but I can always remember the mistakes. I made a big one in that final game near the end when I yelled at McKenzie that they had switched defenses. Unfortunately we weren't communicating because he thought I was asking them to run play #2 and what I was saying was they were in defense #2. I should have taken a time out. As a result we lost the ball and the game. I blame it on the coach. It was a good season, didn't end like I wanted it to, but a fun ride none the less.
| | | | | | | |
| --- | --- | --- | --- | --- | --- | --- |
| Opponent | We | They | We | They | We | They |
| Tyee | 73 | 44 | | | | |
| Mt Tahoma | 79 | 52 | 69 | 74 | | |
| West | 60 | 62 | 77 | 64 | | |
| Franklin Pierce | 88 | 46 | | | | |
| Lincoln | 43 | 74 | | | | |
| South | 81 | 68 | 72 | 70 | | |
| Washington | 72 | 81 | | | | |
| Bainbridge | 79 | 60 | 68 | 57 | | |
| Port Angeles | 59 | 81 | 85 | 93 | | |
| O'Dea | 74 | 48 | 76 | 52 | | |
| North | 67 | 76 | 72 | 61 | | |
| Central | 79 | 68 | 82 | 72 | | |
| Anacortes | | | | | 62 | 50 |
| Curtis | | | | | 60 | 59 |
| Marysville | | | | | 62 | 58 |
| Ellensburg – State | | | | | 59 | 67 |