| | | | | | | | |
| --- | --- | --- | --- | --- | --- | --- | --- |
| Last Name | First | | Jersey # | Pos | Total Pts | Gms | Avg PPG |
| Backlund | Kevin | Sr | 33 | F | 28 | 14 | 2.0 |
| Bielinski | Jerry | Sr | 53 | G | 40 | 16 | 2.5 |
| Brittain | Scott | Sr | 25 | G | 200 | 18 | 11.1 |
| Chopp | Randy | Sr | 45 | C | 55 | 18 | 3.0 |
| Deichert | Tom | Sr | 35 | G | 100 | 17 | 5.8 |
| Dickens | Don | Sr | 55 | C | 205 | 18 | 11.4 |
| Gilyeat | Ian | Sr | 31 | F | 22 | 16 | 1.4 |
| McDonald | Brian | Jr | 41 | F | 171 | 17 | 10.0 |
| Maas | Todd | Sr | 23 | F | 13 | 16 | 0.8 |
| Plowman | Ken | Sr | 51 | F | 46 | 14 | 3.2 |
| Sampson | Scott | Sr | 15 | G | 17 | 15 | 1.1 |
| Thornburgh | Jim | Sr | 43 | F | 253 | 18 | 14.0 |
| Walthall | Joe | Sr | 21 | G | 135 | 18 | 7.5 |
1977 Roster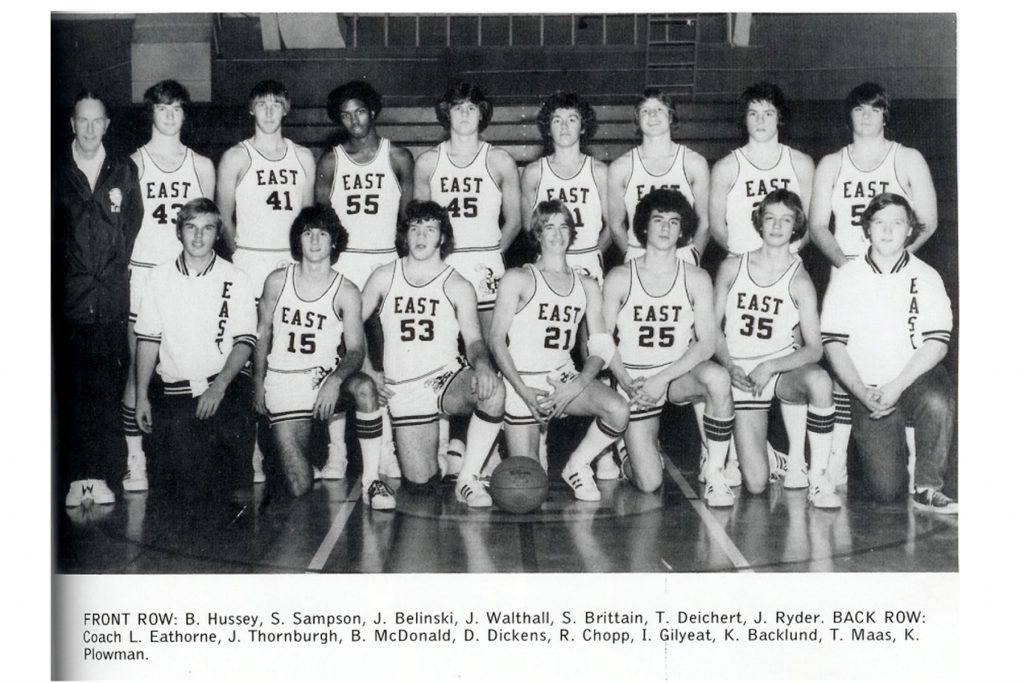 We had a good season in 1977. We were coming off a down year in 1976 when we finished 10 -12. We returned nine players from the prior year. They included Jerry Bielinski, Scott Brittain, Tom Deichert, Don Dickens, Ian Gilyeat, Todd Maas, Ken Plowman, Jim Thornburgh and Joe Walthall.
To this group of seniors, we added Kevin Backlund, Randy Chopp, Brian McDonald and Scott Sampson. Our starters were Thornburgh, Brittain, Dickens, Deichert and McDonald who was a junior. These were good kids that were fun to coach.
Kevin Backlund was probably as interested in basketball as any kid I've ever seen. He still plays. He and Walker go over and play in the South Kitsap League or they play in these three-on-three tournaments. He never started for us; he was one of the first subs.
Gilyeat was a great kid. McDonald was very shy; wasn't really outgoing. Todd Maas was good kid who played hard. Plowman always kept thinking he should be a tight end in football. Scott Sampson, pretty good ballplayer.
We played well in the regular season. We took both games from Port Angeles and that is always good. We split with West, Bainbridge, Central and South Kitsap and we won both games against Sequim and O'Dea. We did loose twice to North Kitsap who had a fine coach in Jim Harney. We finished the regular season with a 14 – 6 record and that got us into the tournament. I was surprised to get there because we had no big kids. They didn't have a tremendous amount of speed but they played pretty well together.
In the district tournament, we beat Enumclaw and then beat North Kitsap when it counted most. That put us into the regional tournament which was now a 16 team event. We lost to R.A. Long by 10 and then we came back and beat Lake Stevens by a point and then lost to Centralia by 15 in a loser-out game. We finished the season with a 17 – 10.
This team had good kids; enjoyable and they played about as well as they could play. Maybe somebody else could get more out of them but I thought that they played about as well as they could play."
| | | | | | | |
| --- | --- | --- | --- | --- | --- | --- |
| Opponent | We | They | We | They | We | They |
| Enumclaw | 83 | 65 | 67 | 45 | 53 | 40 |
| Foster | 84 | 70 | | | | |
| Port Angeles | 94 | 83 | 97 | 85 | | |
| Mt Tahoma | 61 | 56 | | | | |
| West | 64 | 48 | 53 | 61 | | |
| North | 74 | 88 | 51 | 53 | 60 | 54 |
| Central | 59 | 43 | 54 | 78 | | |
| Bainbridge | 48 | 60 | 81 | 68 | | |
| South | 66 | 79 | 83 | 65 | | |
| O'Dea | 95 | 75 | 83 | 75 | | |
| Sequim | 81 | 65 | 88 | 61 | | |
| Mount Si | | | 68 | 78 | 74 | 77 |
| R.A. Long | | | | | 52 | 62 |
| Lake Stevens | | | | | 53 | 52 |
| Centralia | | | | | 65 | 80 |