Yr
Last Name
First
Jersey #
Pos
Hgt
Wgt
Total Pts
Avg PPG
66/67
Albro
Brad
43
C
6'3
129
7.6
66/67
Busby
Phil
45
F
6'0
166
8.7
66/67
Gallagher
Larry
25
G
5'6
47
2.9
66/67
Gundlefinger
Keith
33
G
5'11
206
14.7
66/67
Kravitz
Allen
51
C
6'1
96
5.3
66/67
Martin
Alan
23
G
5'4
108
6.8
66/67
Martin
Jim
35
G
5'9
12
1.3
66/67
Miller
Morrie
15
G
5'9
102
5.4
66/67
Sayers
Dave
31
F
5'10
68
3.6
66/67
Sokolowsky
Mel
41
G
5'11
20
1.8
66/67
Steinman
Steve
53
C
6'3
78
4.6
66/67
Welling
Bruce
21
F
5'11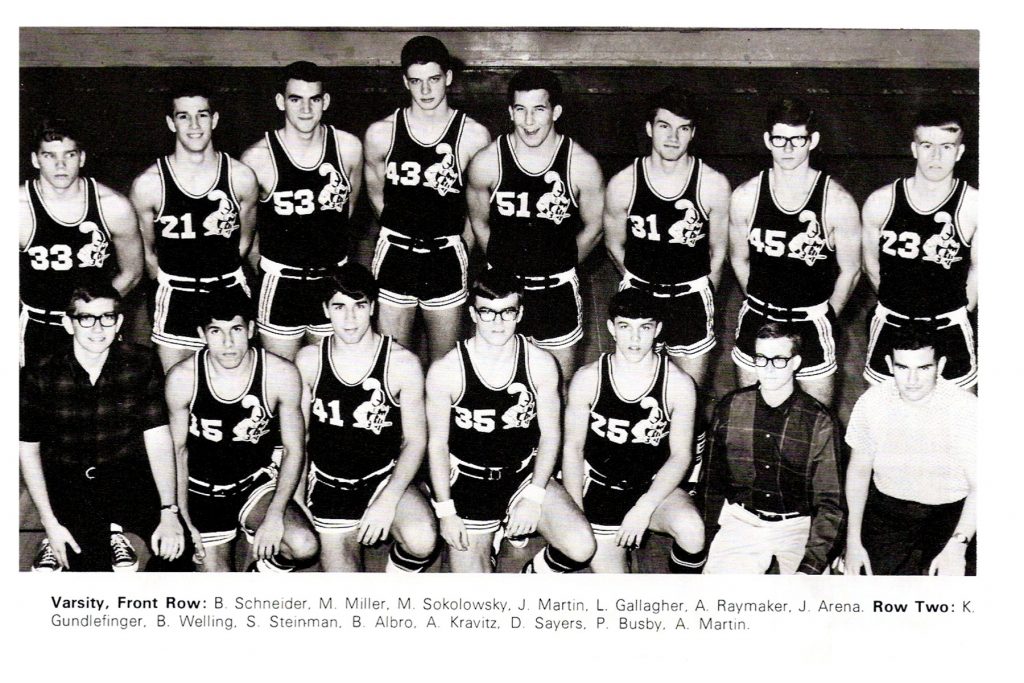 We started out 0-3. We probably started out 0-3 because one the coaching was probably lousy but also the first three games we played I think we played very tough teams. They were good teams and I know that Aberdeen went to the State meet. I don't think Hoquiam did because Aberdeen beat them, but they were just excellent teams.
Another reason why we didn't do so well was because we just weren't ready to play. If you look at them; Welling played football, Kravitz was a football player, Sayers played football, Busby played football, Miller was a football player, Sokolowsky was our quarterback and Gallagher played too and so what we had were kids that weren't quite in the shape and were making that transition from the field to the floor. It took them about three or four games before they'd get their feet under them. Not only that, I think that was maybe the first time that we beat West or something in football. When you come off of something like that, the kids quite often thought of basketball as a second sport and that's where we were. I thought of basketball as a first sport and so there was not quite the interest that you get later on when the kids seem to be getting into it.
The league included Shelton at that time. Shelton was kind of like Bainbridge is now. They'd come and they'd go according to what they think is best for them; not what is best for the league. Besides Shelton, we had West, Central, Port Angeles, South and North. We finished 13-5 in the regular season. Besides the first three games we also lost to Central twice. That was discouraging. We usually didn't lose to them, but Central was just starting to get really good. They built up to where in a couple of years they won state. There was a four way tie for the league title, so we had to play NK again to move on to play the winner of South and Central. We had beaten NK twice during the regular season, but weren't able to do it this time. We wanted another shot at Central.
We had two close games with West that year, 59-56 and 58-56, almost identical scores. We won them both. I'd get emotionally involved with those games and then also it was an extremely rabid crowd; I mean you didn't want to give them a test for distemper or anything because they were all crazy and so you'd get all involved and I remember in one of these games; one of the kids forgot his shoes and I had to go back over to East High School to get the shoes; well when I came back; it was about 6:30 and they wouldn't let me in the gym because they were not only in the gym at West; they were up looking through the skylights up there and I didn't even know how to get up there to the skylights but you could see the kids poking their heads through the windows up there so it was a pretty wild affair.
The starters were Steve Steinman, Morrie Miller, Dave Sayers, Allan Martin and I think Bruce Welling. Phil Busby was in there but this team was not as set as some of them were because the starters at the start weren't the starters at the end. Busby was probably the toughest and Martin was a shooter. There were other kids that worked in there and could have played extremely…extremely well so…it was enjoyable. Larry Gallagher had worked his way in there, he was a player, small, good presser. We pressed all the time. Keith Gundlefinger got hurt pretty badly yet he came back and played extremely well. He was a great shooter and ended being our leading scorer.
The tallest kid we had on the team was Brad Albro. He was not a starter but he was a good player. Albro developed into a reasonable help and he was a good player at times. If you take Albro out of the equation, we didn't have tremendous amount of height. And if they put down what their height was, they usually lied. By the time it got down through one of my secretaries who would type some of these things up, sometimes the kids grew. Then we had some unusual kids. We had Al Kravitz who was more of a football player than a basketball player but he loved to play. We had two Martins on the team, two brothers. Beside Alan we also had Jim Martin. Jim and Mel Sokolowsky really didn't get a chance to play all that much, but contributed when they did. It was just an interesting group of kids. I didn't expect an awful lot but they played extremely well.
When we played Hoquiam and Aberdeen, we stayed over night. I booked this hotel that we used to stay in when Bremerton used to play way back when. Nobody told me that it had turned into a house of ill repute. The kids found out real quick and I had a devil of a time; they were laughing and yelling all over the floor but we didn't get arrested and we got out of there. Aberdeen had a kid named Vlastolik I think at the time; he was a great player and Hoquiam was not a really great team but they played in a really old gymnasium and that has nothing to do with the score but the reason we lost. The kids hadn't been on a trip like that before. This was an overnighter; which was very different for them and so I found out they weren't good travelers. I think they missed their moms, maybe there were too many moms running around down there. So we never did anymore overnight trips.
But I always said that when we went to play Aberdeen this time, that if you put all the balls in the middle of the floor; they would all roll down to Aberdeen's side because they were big; they were monstrous guys and they probably outweighed our kids 30 pounds to a man and they were men and our kids were boys. So we were playing the boys against the men and we lost.
Everyone played on this team. There wasn't that much difference between any one of them. They were just lots of kids who could play the game and so that's why we pressed and ran all over the floor because we could get a lot of kids in there. They were a good team; a lot of fun.
| | | | | | | | |
| --- | --- | --- | --- | --- | --- | --- | --- |
| Yr | Opponent | We | They | We | They | We | They |
| 66/67 | Mt Tahoma | 62 | 69 | 59 | 56 | | |
| 66/67 | Hoquiam | 36 | 53 | | | | |
| 66/67 | Aberdeen | 55 | 77 | | | | |
| 66/67 | Mt Rainer | 73 | 63 | | | | |
| 66/67 | Federal Way | 65 | 52 | | | | |
| 66/67 | Shelton | 76 | 56 | 58 | 50 | | |
| 66/67 | Central | 65 | 78 | 79 | 84 | | |
| 66/67 | West | 59 | 56 | 58 | 56 | | |
| 66/67 | Port Angeles | 47 | 44 | 46 | 36 | | |
| 66/67 | South | 59 | 57 | 87 | 68 | | |
| 66/67 | North | 68 | 67 | 84 | 71 | 57 | 70 |