| | | | | | | | |
| --- | --- | --- | --- | --- | --- | --- | --- |
| Last Name | First | | Jersey # | Pos | Total Pts | Gms | Avg PPG |
| Belinski | Jerry | Jr | 53 | G | 2 | 10 | 0.2 |
| Brittain | Scott | Jr | 25 | F | 57 | 21 | 2.7 |
| Deichert | Tom | Jr | 35 | G | 62 | 15 | 4.1 |
| Dickens | Don | Jr | 55 | C | 239 | 22 | 10.9 |
| Farrar | Greg | Sr | 15 | G | 246 | 22 | 11.2 |
| Gilyeat | Ian | Jr | 31 | F | 16 | 7 | 2.3 |
| Maas | Todd | Jr | 23 | F | 31 | 15 | 2.1 |
| Plowman | Ken | Jr | 51 | F | 60 | 18 | 3.3 |
| Renzo | Mike | Sr | | G | 32 | 11 | 2.9 |
| Seggar | Rick | Sr | 41 | F | 200 | 19 | 10.5 |
| Thornburgh | Jim | Jr | 43 | C | 290 | 22 | 13.2 |
| Walker | Fred | Sr | 45 | C | 108 | 20 | 5.4 |
| Walthall | Joe | Jr | 21 | G | 129 | 16 | 8.1 |
1976 Roster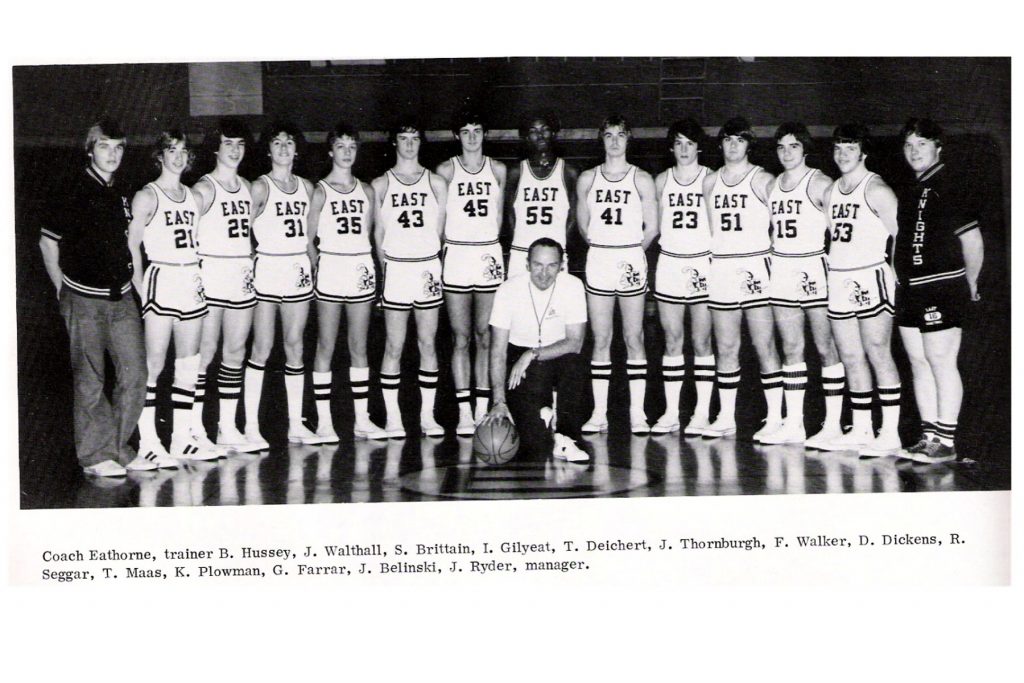 This is one of the first teams in awhile that didn't have a winning record. We went 10-10 in the regular season and then lost both games in district to end our season. But we did beat west twice and that counts for something! We only had one player back from the previous year with any real experience and that was Greg Farrar. We gave up over 100 points twice. The other coaches didn't seem to have any problems with a 100 and this year our defense didn't either. We averaged 67 points/game but we gave up 71.5 points/game. This is the first year since the early 60's that our opponents outscored us.
This was a very difficult team to coach but on the same hand they were a fun team to coach. Okay you get beat but they played as good as they could play and I appreciated that. They tried hard and that is all you can ask.
The starters were Don Dickens, Jim Thornburgh, Rick Seggar, Greg Farrar and Tom Deichert. All of them but Tom Deichert averaged in double figures. The rest of the team included juniors Jerry Belinski, Scott Brittain, Ian Gilyeat, Todd Mass, Ken Plowman, Joe Walthall and senior Fred Walker.
It is surprising that I don't ever remember Seggar making that many points but he did. He probably put up enough shots. He liked to shoot but he didn't like to rebound.
Farrar could hit the basket, I mean he was a good shooter and he would get his points.
One of the real good guys was Fred Walker. I really liked him. He was not real well coordinated but he was tall and he worked harder than hard.
Don Dickens was a great guy and was no problem to coach. He could jump and he could run but he was not real strong. He loved the game and he was always in the gym.
Jim Thornburgh was the leading scorer on this team. He was a good shooter but not a lot of foot speed. He was our center, but we really didn't play a typical post man; we would just break a guy across from the forward position.
Walthall was a good player but not well all the time. We brought Renzo up from the junior varsity when Joe couldn't play. Renzo was more of a football player than basketball player and boy he could knock somebody down.
One game that stands out this year was the game at South. One of their kids went up for a dunk and one of our kids ran underneath and the south kid grabbed the rim, slipped over backwards and came right down on his head and boy we thought he was dead. I mean I thought Oh God!. So they shortened the half and we went into the locker room and my kids were just thunderstruck. We went back out for the second half and we got whopped; there was no doubt about it. At the end of the game I looked over at their bench and there was this kid; he had come back into the gym not too long after halftime. The ambulance had got him somewhere out towards Burley and he was fine and so they brought him back and he's sitting on the bench. Our kids didn't know it. They thought this kid had been injured real bad. We might as well have gone home at halftime; we didn't have a chance. Final score was 105-70.