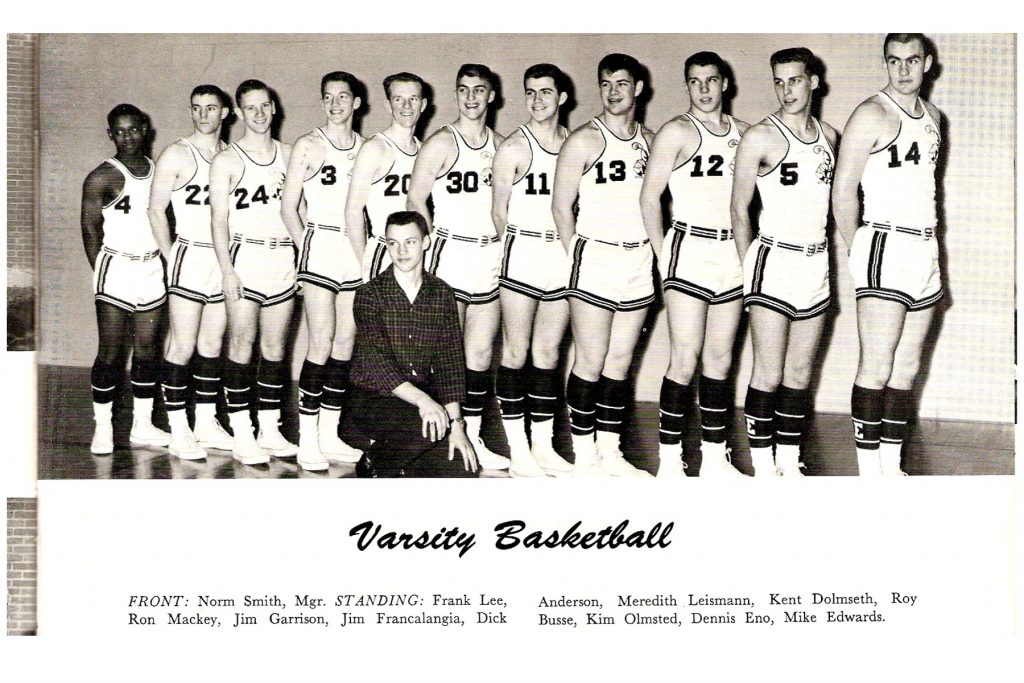 We've tried many innovations here at East. This year we went with a two platoon system and for 19 games it met with success. This team was fundamentally sound. Although not big, they could play basketball. We began the press with Bakken, Stautz, Olsen and company and we saw it in full action with this group. Each team thought they were better than the other. If you asked them today, they would be bitter about how much they played. We usually started with Anderson, Mackey, Eno, Dolmseth and Edwards, The second or shock troops were Lee, Francalangia, Busse, Leismann, and Garrison. Olmstead was the trouble shooter for both teams. Some of the best games I saw all year would be the practice games when these two teams scrimmaged.
Anderson seemed to be the main difference between the two teams. He was an excellent leader and hustler. The other kids would listen and do what he said and he was like a coach on the floor. He was our captain and one of the best the Knights have had. The rest of the team was a rag-tag affair. Dolmseth we though we would cut several times but he just kept out working us and finally he was a starter in his senior year. Eno was one of the most likeable kids you could ever meet. He was slow, not a good shot or passer but he just fit in and made the team move. Mackey was just Mackey. He will never be reproduced in type here at East. Ron just has a built in fire that never quit burning. Without athletics he would have been a wonderful street fighter. Ron had the spirit of East burning inside him and although hard to control you could only admire his fire.
Edwards was the only junior on the starting group. Mike was an excellent outside shooter for a big man. He was as quiet as Mackey was a fire ball. Busse was the driving force of the second unit. He was not a basketball player in the true sense, but he was an athlete. We can still see Roy turning with a rebound, and launching himself down the floor like a run away bull. He was one of those boys who came to play. Beans Lee was the first of our Negro players. He had hidden springs in his legs. Standing about 5′ 4", Beans would, with his speed, quick hands and shooting ability, suddenly dominate the game in the minds of the fans. He was just plain fun to watch'. Francalangia was a shooter. That is what he liked to do and it was what he did best. The old left hand shot from outside was a Francalangia special. Meredith Leismann was just Meredith Leismann He had his own shot and his awn approach to the game of basketball. He was the best corner shooter I have ever seen! Olmstead was another of our many left hander this year. Kim loved all sports and never in the years that he played at East did I see him give less than the best he had to offer.
At the end of the season this team had the most hear breaking of accidents when Anderson was injured. He seemed to be the one irreplaceable player. We lost out in the District and at this time, with Anderson in the lineup, I felt that we could have gone on to the state tournament and with two strong teams ready to play, put on a real show at the big tourney. I look back on this team with real feelings. They were nothing to start with, especially in physical structure. Through hard work and real determination they gave the coaching staff some real pleasure.