| | | | | | | | |
| --- | --- | --- | --- | --- | --- | --- | --- |
| Last Name | First | | Jersey # | Pos | Total Pts | Gms | Avg PPG |
| Barnes | Leonard | Jr | 41 | C | 134 | 24 | 5.6 |
| Campbell | Henri | Jr | 25 | F | 290 | 26 | 11.2 |
| Eathorne | Mark | Sr | 15 | G | 138 | 26 | 5.3 |
| Garinger | Bryan | Sr | 45 | F | 236 | 26 | 9.1 |
| Hackett | Ray | Sr | 23 | G | 110 | 26 | 4.2 |
| Hayford | Jeff | Jr | 31 | F | 46 | 11 | 4.2 |
| Langston | Oza | Jr | 53 | G | 175 | 26 | 6.7 |
| Lindberg | Larry | Jr | 21 | G | 125 | 22 | 5.7 |
| Olson | Kevin | Sr | 51 | F | 82 | 11 | 7.5 |
| Torseth | Rick | Sr | 33 | F | 33 | 19 | 1.7 |
| Walker | Rick | Sr | 55 | C | 635 | 26 | 24.4 |
| Wischoefer | Art | Sr | 35 | G | 20 | 17 | 1.2 |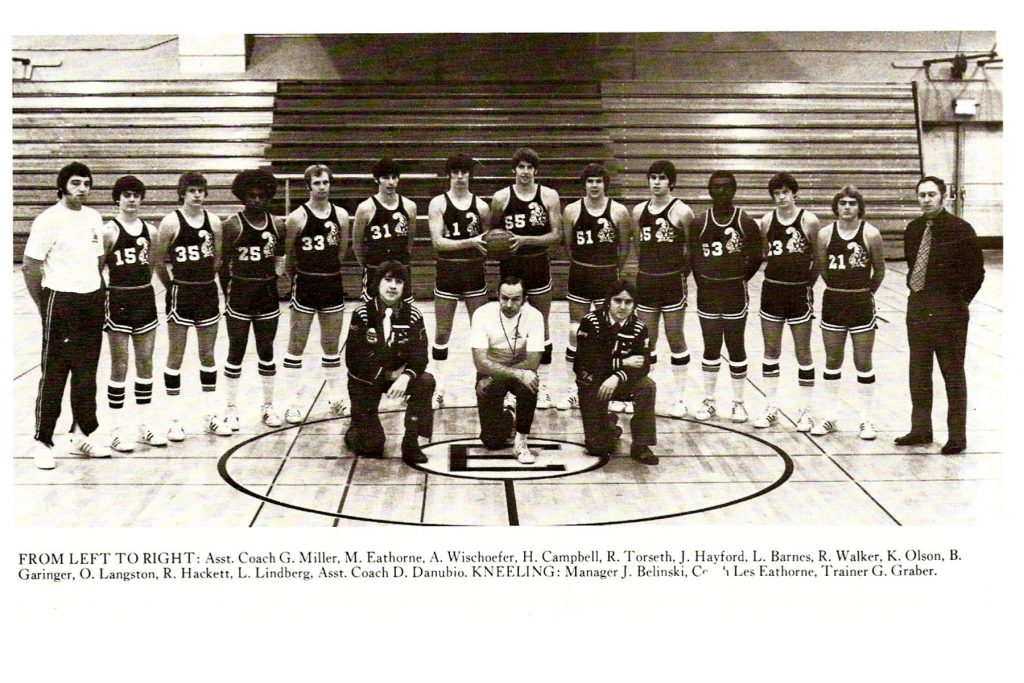 Entering the 1974 season, my expectations were that we are going to win but beyond that I didn't have a prediction because you never can predict the tournament because the tournament is one game and you're out but I thought that we'd get there.
We were returning five players from a state championship team and we were adding very talented kids from our junior varsity program. Of course we would be built around Rick Walker who had two years of varsity experience and two state championship runs under his belt. We also thought we'd have Kevin Olson who in 1973 was our sixth starter and was on the floor for the final minutes of the game against Timberline. Unfortunately for Kevin, this coach and the team, we lost him for most of the season to a knee injury.
We did return Mark Eathorne and Ray Hackett at the guard position and Bryan Garinger and Rick Torseth at forwards. While these players entered the season without any starter experience, they had spent the prior year practicing everyday against a state championship team and gaining significant game experience as well.
To this group we added juniors Henri Campbell at forward, Leonard Barnes at center, Oza Langston, Larry Lindberg and senior Art Wischoefer at guard. It was my belief that while this team didn't have the experience of the 1973 team, we had great depth at all positions. That would be important as we lost Olson for most of the year and we also lost Torseth and Lindberg for parts of the season. We called up Jeff Hayford from the junior varsity to play forward and we added Johnny Golden for a stretch of the season to play forward until Olson could return.
Our starting five included Walker at center, Campbell and Garinger at the forwards and Eathorne and Hackett at the guards. We played our guards in tandems. If the opponent played primarily a zone defense, we used Eathorne and Hackett a bit more; if they came at us with a man-to-man, I'd go with Langston and Lindberg who were a bit quicker. Barnes paid the price in practice of having to guard Walker everyday. His reward turned out to be a much improved game. He saw plenty of action spelling Walker and he responded with quality play throughout the season. He became a player I could count on at anytime in the game.
Basketball as we played it at East is very much a team game. We relied on team coordination to run the press effectively, we needed all five players running the floor on the fast break to make that strategy work and we demanded that all our players be able to dribble, pass, move without the ball and read the flow of the game because so much of our offense was improvisational. We only had four set plays and we usually only ran one play during the game. East players knew that we started each game by running play number two. After that, we pressed, ran the floor and look to exploit the weaknesses of the defense whether it was a zone or a man-to-man.
All the players on the 1974 team knew how play East basketball and could do it well. We also knew that at the center of it all would be Rick Walker. Walker was an exceptional talent. One of the finest players to come out of Kitsap County, Rick entered 1974 with improved skill and produced one of the finest seasons in the history of East High School averaging nearly 25 points a game.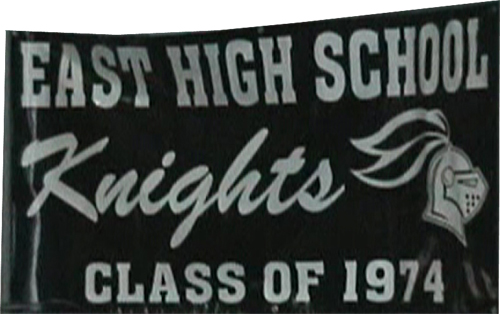 You build up certain rivalries over the years and sometimes schools would call because everybody wanted to play us. I was the Athletic Director and I would just sit and I would say, "okay I want this" and then I'd just wait for them to call and they always called. I could pick before the league started the teams that were fun to play but you know some teams; they would have trouble filling out a 20-game schedule; we never did. Everybody wanted to beat East and especially after we won the state championship. I think I could have scheduled 40 games quick."
We got off to a good start winning our first five games including wins over Timberline and a much improved O'Dea. We carried a thirty game winning streak to North Kitsap and saw it end when they beat us 65 to 60. Here we are going along and we have won so many we just assumed that we would go out on the floor, they'd throw up the ball and at the end we would just walk out, go take a shower and we would be the winners. And that game taught us a big lesson.
We did beat West twice which was always good. We won all the rest of our league games including beating North Kitsap at our place to off-set that loss. But the best game of the regular season was when we traveled to Seattle to play O'Dea. We played in a small gym at Holy Rosary school. A remarkable display of basketball talent was put on as Walker squared up against Clint Richardson. Rick scored 42 points and Richardson had 40 and we won in over time.
We entered the tournament with an 18-1 regular season record. We began with a win over our post-season rival Curtis and then beat O'Dea for the third time. We played Foster in the district championship and escaped with a 62-60 win. What was significant about all three of these games was that each win featured strong performances for different players. In the Curtis game we got a big game from Lindberg, against O'Dea Eathorne broke them down with his long-range shooting and against Foster, Barnes came up big down the stretch. This balanced team play was becoming our strength.
We entered the regional tournament at St. Martin's College a better team because we got Olson back. His knee was not great and his mobility was limited but he could still shoot and he had big game experience we could put on the floor in the big games we had left. We beat Washington High School in the first game and then played Timberline for the regional championship winning a close game 83-78. It was off to the state championship at the University of Puget Sound.
First up was Cleveland. A team of great athletes, this team would eventually win two state championships and send three players on to the NBA. We were able to combine our experience, good free throw shooting, quickness off the defensive board and speed on the break to separate ourselves from them. It was a tough game that we won 79 – 73.
The state championship would be a rematch of the district championship with East playing Foster, a team that featured a talented 6'8" center and a very good point guard. They had stretched us to the limit the last time we met so they had every reason to believe they could beat us in the rematch. I thought that when playing them at UPS, we would feel like we can move better. It's a college-sized floor and we were much faster and could move around and so I thought well it might be close again but I thought that we could beat them. I also thought that we had been going along pretty good and then all of a sudden we get somebody like Foster who scares the hell out of us in the district game. I didn't have to tell the team much to get them going now.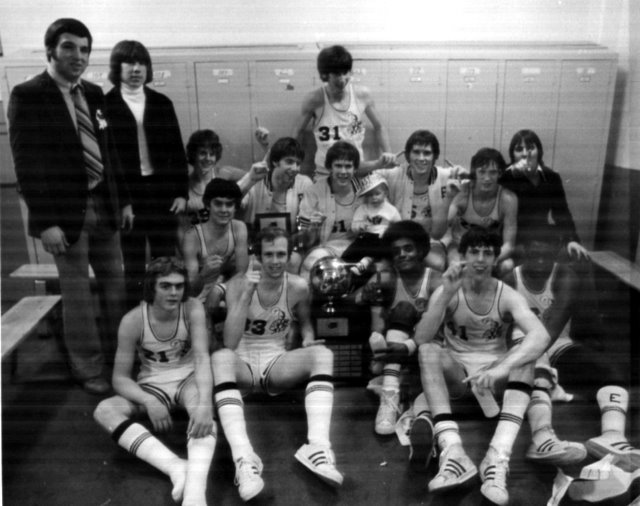 What the first game did do was give them more confidence and I'm sure their coach said, "Now the first game you just missed on a couple of calls and you would have beat these guys." Well, the fact that we didn't playing too well and they came within two points of beating us the first game. Well fine but I learned a lesson there too; you never predict the next game by the last game; it just doesn't work that way. We came out ready to play and our tournament experienced was a valuable asset. We got on them early and never let up. By comparison to last season, this championship game was a bit easier but we never did let Foster get into their game. Our pressure was too much for them and we won going away 77 – 52. We were state champions again winning back-to-back and going 51 – 2 over that period.
READ – East Champs Honored – shares insight into the close knit community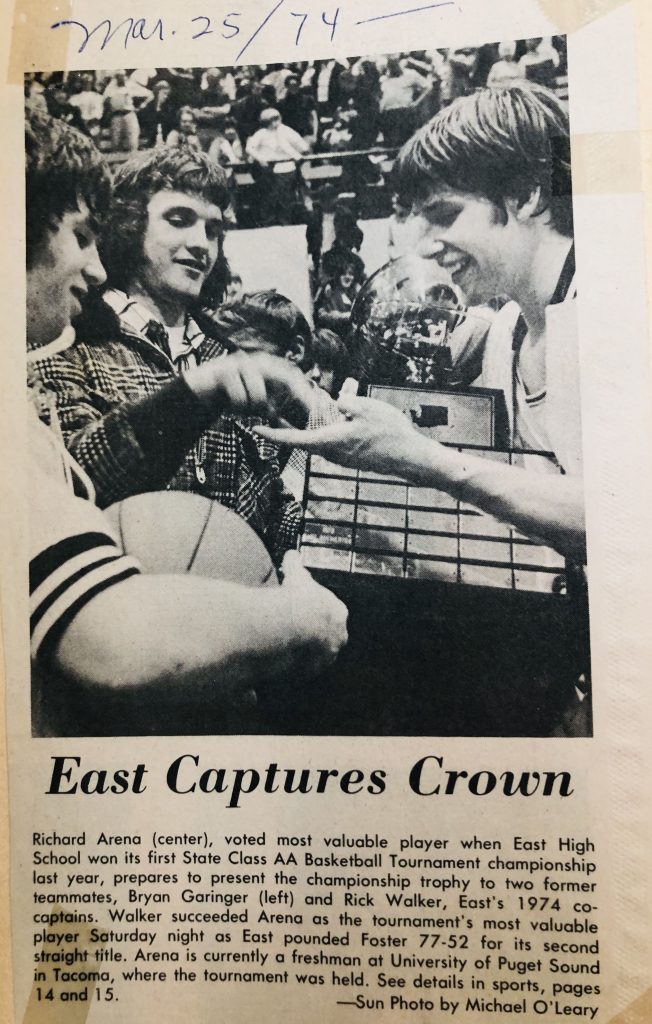 Opponent
We
They
We
They
We
They
Timberline
62
43
83
78
Washington
67
43
66
45
Mt Tahoma
88
55
70
56
O'Dea
82
69
87
85
84
70
Central
72
60
89
66
North
60
65
80
53
West
84
58
74
66
Bainbridge
72
44
66
55
Mt Lk Terrace
85
54
South
80
78
98
81
Port Angeles
89
51
64
48
Curtis
87
61
Cleveland
79
73
Foster
State Championship
62
60
77
52
Congratulations letter from Lyle Bakken