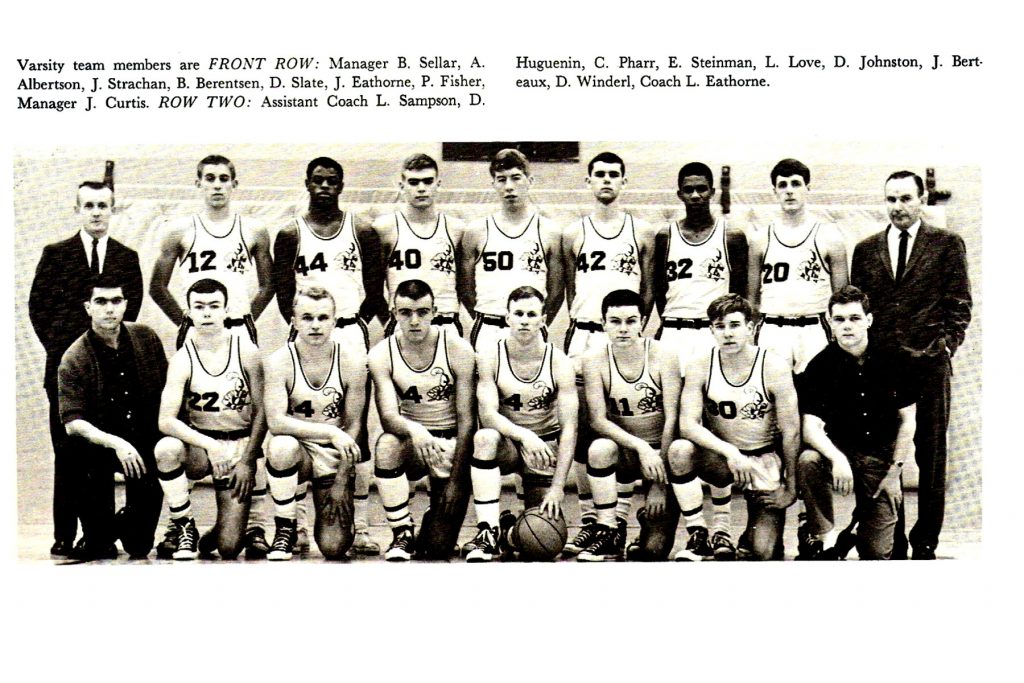 We started in the usual manner it seems by dropping the first four games and until the kids beat the Alumni it looked like we were in for a dismal year. After the first win the players seemed to relax and they moved into being a real contender. They finished the season with fourteen wins and six losses which also put them into the district tourney and a tie for the Olympic League Championship. The most satisfying aspect of this team's season was the two wins over our honored rival West. It was the first time this had happened and certainly put some frosting on the cake. S. K. was very strong and ranked in the state when we knocked them off on our floor in one of the more thrilling games ever played on the East court. The senior boys who performed well for us were John Berteaux, Bill Berentsen, Paul Fisher, Dave Huguenin, Dan Johnston, Dwayne Slate, John Strachan and Dick Winderl. The senior managers were John Curtis and Bob Sellars.
Each boy had his moments. Dan Johnston was chosen by his teammates as captain and he also led in rebounding. He was a quite, hustling type of player who commanded respect from all he met. Dave Huguenin matured into a fine shooter and player for us. Dick Winderl, as a second year starter, played well although constantly plagued by injuries which it took courage to keep playing. John Strachan also was plagued by injuries and throughout his high school career he was seemingly just recovering from some type of an injury, but along with his bad luck he played well for us. Paul Fisher, the irrepressible word twister, was hustle personified. Paul loved to play and although not large he was a real addition to our team. Every team needs a Berteaux. We will all long remember John. He was not much bigger than a needle but he loved to play. John never had an enemy and in many games he pulled them out with some tre­mendous defensive plays.
The season ended on rather a sour note when we were defeated by the team that we had beaten twice in league play. This eliminated us from the district. It is only fair that we comment a little more about one player – Dwayne Slate. Two years in a row Dwayne was more or less regulated to being a bench sitter, but he never took it lying down. Dwayne never quit trying and thinking, "Tonight will be my night!" Eventually he was one of our better players, not long on ability, but with a built in desire to win. Dwayne is an object lesson to the player who never gives up. This was a good team. Each player had a part in keeping the tradition of East Basketball at a high level.