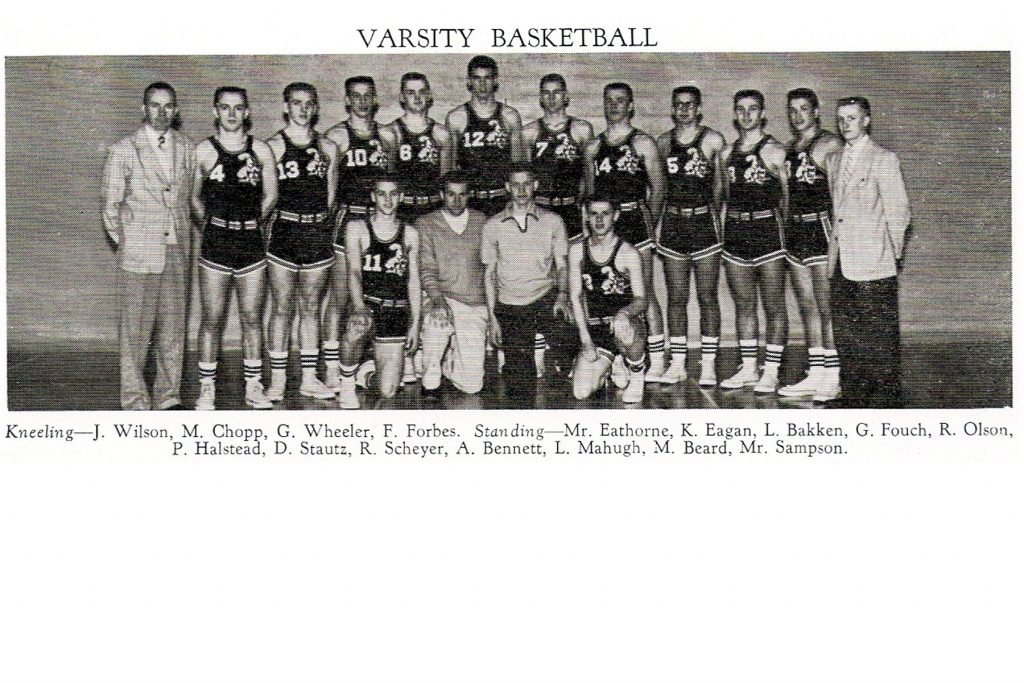 This was the year the built the tradition on which we base our program. Bakken, Stautz, Olson, Fouch and McHugh. They were backed by Scheyer, Beard, Halstead, Egan, Wilson, Bennett, Forbes and Pendergast. Bakken was a sight to see, his blond hair fly­ing in the breeze, his big legs pumping and his body changing direction in mid air. He seemed to epitomize the word hustle. Stautz, like an elongated crab, slipped and slid through the de­fenses until he was like a thin ghost. Olson, always smiling, always rebounding; the big reliable Swede played as if he wanted to play forever. Fouch was just George. He was mainly a football end whose friends played basketball, so to be with his friends he decided he might as well learn to play the game. Never smooth, always in a little trouble, George just kept hustling un­til he made room for himself on the team. McHugh was not a scorer. He was an excellent defensive player and with four other gunners it was nice to have Lowell out there to pass the ball around.
This team won 19 and lost 1. It was our first athletic team to beat West and the first to place in the state tourney. They wrote the book on the press in this league. Once they had P.A. 18-0 and P.A. did not get the ball out of back court for 5 minutes and 20 seconds. They set many scoring, records and Lyle Bakken set the scoring record for one season when he average 19.75 points per game. Bakken made first team All-State and was picked as the player of the Tourney. He also made the high school All-America Team. He was truly outstanding and a fine boy. Stautz, the human pencil, made second team All-state and has been one of the most underrated player ever to play basketball in the Northwest. Olson was honorable mention All-State and as fine a boy and ball player as you will want to meet.

The first sub and Jack-of-all-trades was Scheyer. We used him about anywhere and in position. His main job, which I wonder if he relished, was to scrimmage against Bakken. If we were to pick the single most brilliant game that we played it would have to be the Anacortes game in the state tourney. Trailing by 13 points with little over two minutes to go they pulled this gem out of the fire by three points. They taught this old coach lesson: never give up before the kids do! I gave up twice that I can remember, but the kids kept going. When it was over I sat there stunned; it was impossible but it had happened-we won! As a coach I learned that it is very tough to beat any one who decides that they will not go down the drain until they have spent every ounce of energy. It was a fine year with excellent kids who loved to play, liked each other and loved the game.