| | | | | | | | | |
| --- | --- | --- | --- | --- | --- | --- | --- | --- |
| Yr | Last Name | First | | Jersey # | Pos | Total Pts | Gms | Avg PPG |
| 69/70 | Berentsen | Tom | Jr | 31 | F | 24 | 11 | 2.2 |
| 69/70 | Blaisdell | Clark | Jr | 53 | F | 14 | 7 | 2.0 |
| 69/70 | Blatt | Rick | Sr | 35 | C | 73 | 17 | 4.3 |
| 69/70 | Boyce | Steve | Jr | 43 | C | 275 | 20 | 13.8 |
| 69/70 | Bratonia | Mark | Sr | 45 | F | 94 | 17 | 5.5 |
| 69/70 | Gundlefinger | Jerry | Sr | 33 | F | 244 | 18 | 13.6 |
| 69/70 | Jarstad | Gene | Sr | 41 | F | 31 | 11 | 2.8 |
| 69/70 | Love | Marty | Sr | 25 | G | 18 | 11 | 1.6 |
| 69/70 | Machinski | Bob | Sr | 21 | G | 58 | 15 | 3.9 |
| 69/70 | Miller | Bruce | Sr | 15 | G | 17 | 13 | 1.3 |
| 69/70 | Soriano | Marc | Sr | 55 | F | 237 | 17 | 13.9 |
| 69/70 | Winslow | Larry | Sr | 23 | G | 102 | 17 | 6.0 |
1970 Roster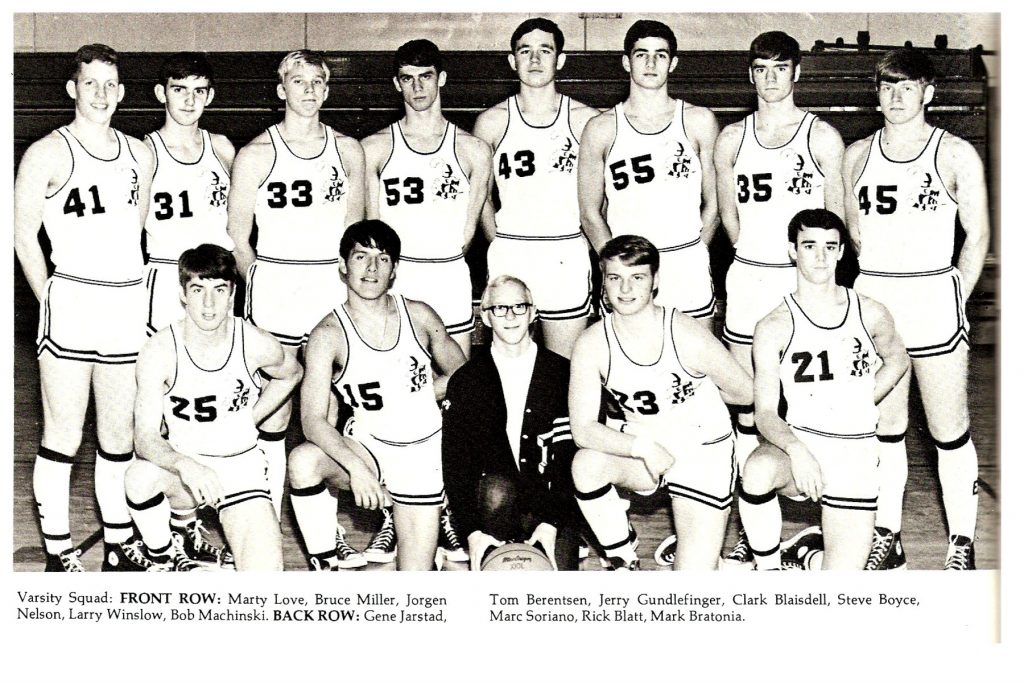 We had a decent year the year before and then this year. The fourth game down tells you something about this team. We lost to the alums! We had all these guys coming back from a team that was 14-7 and this team ends up 9-11. This was the first time in five years that we didn't play some kind of post season game. They played hard for every one of those wins, but the rest of the league was pretty sound. I thought with those big guys all coming back with another year of experience and Soriano coming in with a renewed energy of liking basketball we would have a better record. At least we did beat West once.
We returned four players from the previous year; Marc Soriano, Jerry Gundlefinger, Mark Bratonia and Steve Boyce. I added seniors Rick Blatt, Gene Jarstad, Marty Love, Bob Machinski, Bruce Miller and Larry Winslow to the team. And I included two more juniors, Tom Berentsen and Clark Blaisdell in addition to Boyce.
Blaisdell was an exceptional young man. Blott played well at times. I'll tell you he could do the things that you wanted him to do. He was a football kid too and he was tough. Machinski was small and quick. Larry Winslow transferred in from West. Bruce Miller was on the team and was a good kid. Marty Love was also a good kid, played hard and tried his best. Love was a good player but he wasn't a great shooter. Miller was not a great shooter either, but a terrific kid. He had a lot of fight to him.
This was Tom Berentsen first year on the team. Berentsen was pure shooter and not very confident in himself, but boy he did a good job. In fact the reason you're proud of a guy is that he plays as well as he can play almost every night and #41 was another one. Jarstad was not in any way, shape or form what you would consider, at that time, a basketball player but man he could run all night and he loved the game. He could run and run and run and so he was a joy to have there.
The front court guys were Boyce, Gundlefinger and Soriano and that was the main source of our scoring. We lost our guards from '69, so we didn't have any guards coming back. I kind of had a choice of the four guards; Miller, Winslow Love and Machinski. Other then Winslow's six points a game, we didn't get an awful lot of scoring out of the guards.
Jorgy Nelson was our manager for three years. Jorgy was smart and quick witted. I can remember this one time as the game is going along and a kid came out of the game and sat down on the bench and said, "Jorgy, get me a drink." And Jorgy said, "Go get it yourself, I'm watching the game."The first game against O'Dea was an awful lot of fun to coach because you could start making all the mothers happy. You could get their kid in there and they could play in front of the crowd. You look at the scores of the rest of these games and they weren't real high scoring games. As opposed to some of the other teams where you're scoring in the 80s and 90s playing the same style of play and doing exactly the same stuff, we were now in the 60s and 70s. The exception was the North Kitsap game where we scored 97. North only scored 36 in that game so that's a 61-point win. A bright spot in what was not a great year.
| | | | | | | |
| --- | --- | --- | --- | --- | --- | --- |
| Opponent | We | They | We | They | We | They |
| O'Dea | 69 | 30 | 58 | 49 | | |
| Mercer Island | 58 | 70 | | | | |
| Mt Tahoma | 86 | 69 | 61 | 67 | | |
| Alums | 75 | 78 | | | | |
| Bainbridge | 55 | 59 | 70 | 74 | | |
| North | 97 | 36 | 69 | 44 | | |
| Shelton | 60 | 62 | 65 | 76 | | |
| Port Angeles | 67 | 51 | 74 | 60 | | |
| South | 68 | 61 | 56 | 69 | | |
| West | 62 | 66 | 60 | 51 | | |
| Central | 58 | 72 | 53 | 85 | | |