| | | | | | | | |
| --- | --- | --- | --- | --- | --- | --- | --- |
| Last Name | First | | Jersey # | Pos | Total Pts | Gms | Avg PPG |
| Barnes | Leonard | Sr | 41 | C | 328 | 20 | 16.4 |
| Campbell | Henri | Sr | 25 | F | 204 | 20 | 10.2 |
| Deichert | Tom | Soph | 33 | G | 8 | 10 | 0.8 |
| Dickens | Don | Soph | 55 | C | 18 | 12 | 1.5 |
| Farrar | Greg | Jr | 15 | G | 43 | 16 | 2.7 |
| Garinger | David | Jr | 31 | F | 12 | 12 | 1.0 |
| Golden | Johnnie | Sr | 23 | F | 101 | 20 | 5.1 |
| Hayford | Jeff | Sr | 51 | F | 229 | 20 | 11.5 |
| Langston | Oza | Sr | 53 | G | 222 | 20 | 11.1 |
| Lindberg | Larry | Sr | 21 | G | 151 | 20 | 7.6 |
| Sayers | Rob | Sr | 35 | F | 33 | 18 | 1.8 |
| Seggar | Rick | Jr | 43 | F | 12 | 13 | 0.9 |
1975 Roster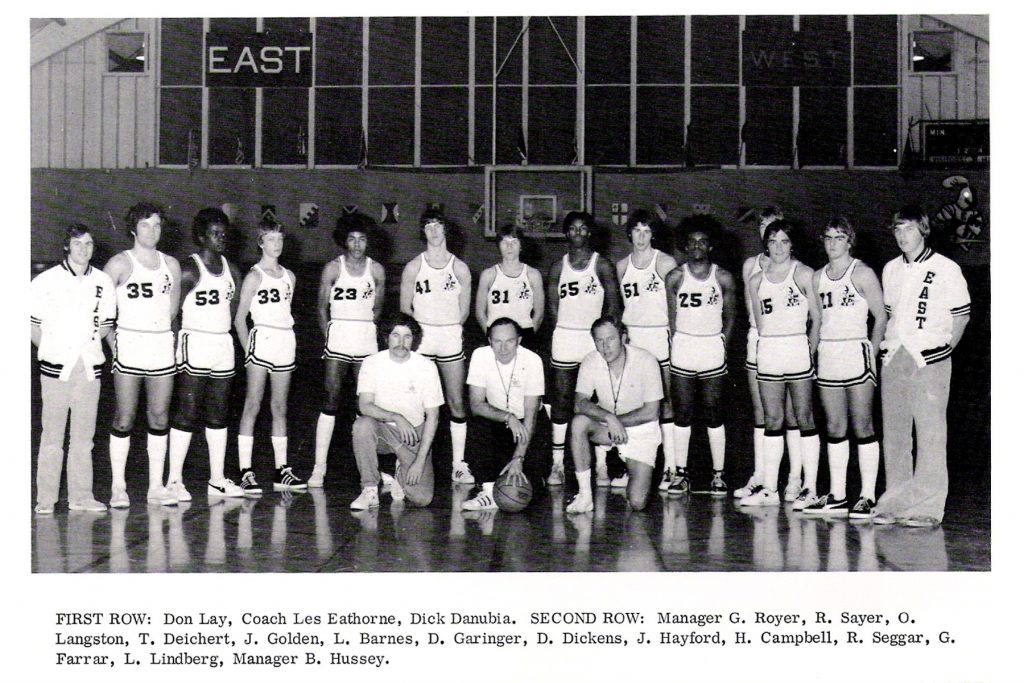 Coming into 1975, we were coming off a pretty good 4 year run. I knew this team was not going to be quite as good as those others but they did have some talent and I think that showed. This team went 18-6 and made it to the playoffs for the 5th year in a row. We lost to Curtis twice which knocked us out of the tournament. We had a rivalry with Curtis in the 1970's. They were a very intelligent team, coached well and had a program similar to ours. Overall it was a good year. We had some close games with 3 of our wins coming in overtime against South, Central and Bainbridge. We couldn't seem to figure out O'Dea as they beat us 3 times. Clint Richardson was their star player and we couldn't stop him.
The starters were Leonard Barnes, Henri Campbell, Oza Langston, Jeff Hayford and Larry Lindberg. Henri Campbell was coming off an all league year and the junior guards were back as seniors. Johnny Golden was the 6th man. Hayford wasn't the most coordinated, the best runner or the best jumper but he played good smart basketball. I thought that Lindberg and Oza would be the captains of this team but neither one of them wanted to be captain. So Leonard Barnes said, "I'll do it." And he did a heck of a job. Barnes was the leader of this team. He had been in the shadow of Walker in the past and it was nice to see Leonard shine.
Greg Farrar was the back up guard. He was a good shooter. Rob Sayers grew up in the neighborhood and new the game. He was a good kid. Tom Deichert and Don Dickens were only sophomores and didn't get much playing time. Tom was a very smart player, but he lacked foot speed and wasn't real strong, but he was sharp. He would have made a good coach. Rick Segger and David Garinger rounded out this team. We continued to have college games at Wednesday night practice. I spent a lot of time watching the picks. This told me what the players thought of each other. If you were picked last everytime there was a reason for it and it wasn't always about talent.
Individually they were not bad ball players. They played some good basketball but they were real characters as well. All the roles weren't as defined as in the past years. These kids could play but there wasn't much depth. The starters were the players and everybody knew it. There wasn't the pressure from behind. Maybe that is why this team tried to get away with a lot, they tried to push this coach to the limits.The game at Mt. Pilchuck we won 79-45. I let the starters leave the bench early to get dressed so we could get on the bus back home a little sooner. After the game they couldn't be found. They were in the swimming pool in their birthday suits. If you look at the team picture from this year it is the first time that the team is not all wearing the same shoes. I wasn't as strict on having them cut their hair short. Times were changing in the mid 70's; more characters, more individuals, more challenges to the system. I felt like I needed to change a little as well.
| | | | | | | |
| --- | --- | --- | --- | --- | --- | --- |
| Opponent | We | They | We | They | We | They |
| Washington | 50 | 46 | | | | |
| O'Dea | 88 | 98 | 80 | 100 | 70 | 75 |
| Mt Tahoma | 63 | 45 | 73 | 60 | | |
| Central | 72 | 57 | 85 | 79 | | |
| North | 70 | 49 | 74 | 59 | | |
| West | 68 | 55 | 83 | 80 | | |
| Pilchuck | 79 | 45 | 64 | 52 | | |
| Bainbridge | 69 | 72 | 73 | 71 | 75 | 69 |
| Mt Lk Terrace | 78 | 68 | | | | |
| South | 85 | 77 | 85 | 76 | | |
| Port Angeles | 58 | 65 | 64 | 63 | | |
| Curtis | | | | | 64 | 76 |
| Mount Si | | | | | 77 | 74 |
| Washington | | | | | 55 | 77 |
| Curtis | | | | | 81 | 90 |