JULY 7, 2013
By TERRY MOSHER
Editor: SPORTS PAPER
Editor's note: Les Eathorne grew up in Bremerton, played basketball for legendary coach Ken Wills and was a junior on the 1941 team that won the state championship. He played basketball at the University of Washington and began a 41-year-career as a head basketball coach at Camas High School in 1950. In 1956, Eathorne returned home to coach at East Bremerton High School, which opened for the first time that year. He coached East to back-to-back state championships in 1973-74 and when East and West Bremerton merged back to Bremerton High School in 1978 he coached there until 1988 when he retired. He later severed as junior varsity coach for head coach Jim Harney at North Kitsap and then for two years was the head coach at Olympic High School. Eathorne also was athletic director at East High and was named the National AD of the year, an honor he was most proud of.  The Bremerton School District named the Bremerton High School Gymnasium after him. He's in the Washington State Coaches Hall of Fame for Basketball and also is in the Kitsap Sports Hall of Fame. Eathorne died July 5 of 2010 at the age of 86 from the affects of COPD and congested heart failure. This three-part series with Eathorne was first published in the Sports Paper in August, September and October of 2006, and it has not been edited so it stands as if he was still alive. This is Part II as we look back at the life of one of the great coaches in state history. Part III will follow.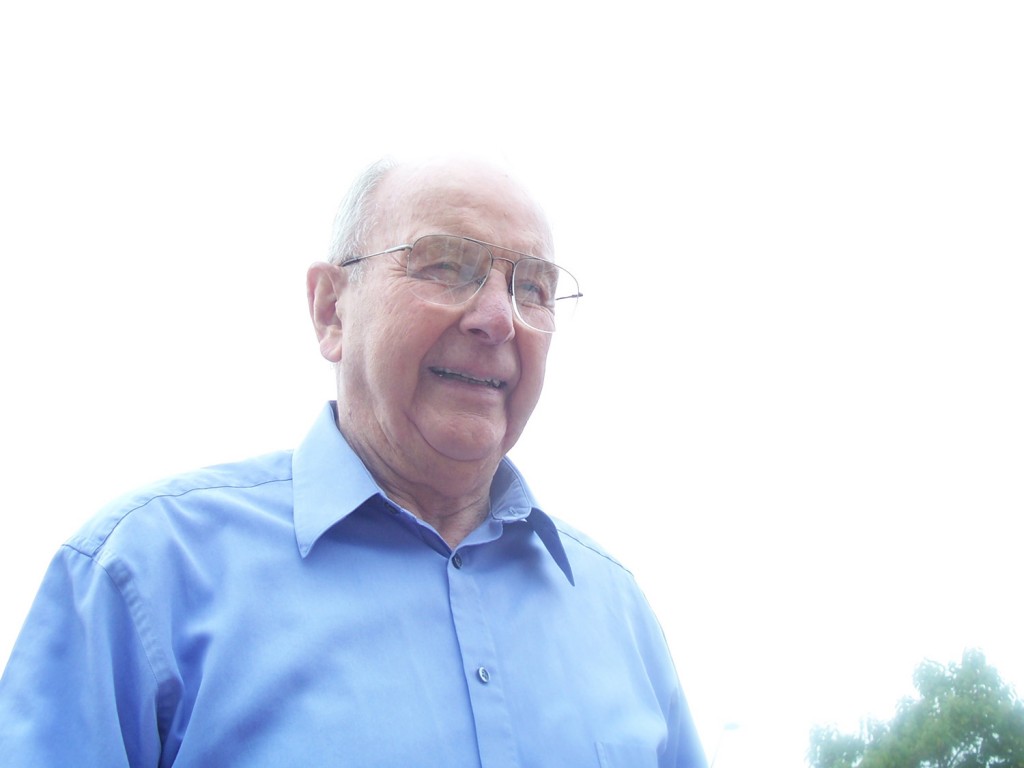 THE LIFE AND TIMES OF EATHORNE:
A Conversation with Les, Part 2
At almost the exact day Congress approved the Lend Lease Act that moved the United States further along toward the war in Europe, Les Eathorne was playing on the Bremerton High School team that was capturing the 1941 State basketball championship with a 30-29 victory over St. John's.
Eathorne was a junior that year and it wasn't until the next year that he would be captain and a starter on the Wildcat team that would lose to Hoquiam 36-34 in the state title contest. It would be the second championship for the Elmer Huhta coached-Grizzles in four years and denied coach Ken Wills back-to-back titles for his Wildcats. (Huhta resigned after this season to take the position as head freshman football coach at the University of Washington).
Bremerton would have to wait until 1973 and 74 to get those back-to-back state titles. By then, Eathorne had gone from high school player to military service, to college player, married, and had returned to be the coach of the East Bremerton team that won those back-to-back state titles.
Eventually Eathorne would win 502 games as basketball coach, be inducted into the Kitsap County Sports Hall of Fame, the Washington State Basketball Coaches Association Hall of Fame, be honored as one of the best coaches to come out of West Sound area, getting a spot in that lofty status right beside his mentor, Ken Wills, and earn one of the best honors of his life in 1976 when he was recognized in Milwaukee, Wis. as the national high school athletic director of the year.
Now it's Eathorne's stepson, Casey Lindberg, who is coaching Bremerton boy's basketball, while he sits on the opposite side from the team bench at home games, watching, analyzing, and softly cheering.
Following is a conversation with Eathorne, part 2:
TSP: When first did you realize maybe basketball would take you places you didn't expect to go, such as college, coaching?
LE: The first time I knew is when my mother started letting me do things I wasn't able to do before, like go on Sundays to shoot baskets at Jack Madsen's at the end of Elizabeth Street. He had a basket there he didn't use much, and I had an old ball, and I just played there. My mother never got mad at me if I was late coming in. I didn't realize it at the time, but (Ken) Wills had told her that if I played well and did what I was told, they might be able to get me a college scholarship, and that changed everything with my mother. I had free reign as far as doing things with basketball, as long as I was where I was supposed to be. First time I ever played (competitively) was with the Presbyterian Church in a church league. The next year I played for the Lutheran Church; they had better uniforms and prettier girls. Then I found out the Methodist Church across from the Admiral (Theater) had a gymnasium inside their church, so I would go there to play. Basketball was natural for me. Nothing encourages you more then when you go to a tournament and find out you are better than most kids there. I wasn't tough enough to like the contact or playing in the mud in football. In football, you have to get the mud out of your jock and everywhere else. I just didn't like that. I did turn out for football in high school. Harold Shidler was the coach. He was one of the better coaches Bremerton ever had. Very much a disciplinarian. His only claim to fame is he kicked a field goal for the University of Washington against Oregon. It hit the goal post and bounced through (in 1924, when Shidler played, Washington lost to Oregon 7-3).
TSP: What were some of the highlights of your high school career?
LE: When you start out as a sophomore and team goes to the state tournament at the University of Washington and, God almighty, you get out on the floor and look up, geez that is thrilling for anybody. I was enamored by it. The hardest thing was to beat out the kids from Bremerton. We had so many players. If you were playing half the game, or anything like that, you were doing well. We had about 30 players. Roger Wiley, who got a full scholarship to the University of Oregon. He was about 6-foot-8 and a half. Bob Engstrom, Barry Neon, Al Kean. Wes Wager, he was a professor for many years at the University of Washington, Ray Volz, Art McCarty, Ed Devaney, his dad was part-owner of the Bremerton Cruisers baseball team; that's how we got jobs selling peanuts at Roosevelt Field, Al Maul, who went to Washington State mainly as a baseball player (Maul led the WSU freshman basketball team in scoring his first year there). Frank Wright, about six-foot-three, played at Northwestern. He could dunk it, but you couldn't do that then. When we had open gym, the kids would flood in. Some of our best games were played right there in that gym at the high school between 4th and 5th streets during open gym.
TSP: You guys won a state championship and lost a close one. Describe those seasons.
LE: I wasn't a starter in 1941. If we needed an outside shot or ball handling against a zone, yes I started. But if we just ran up and down the floor to beat somebody, I didn't start. Senior year I was captain and starter, and I ran the floorshow. But it took a long time and a lot of work to get there in basketball in Bremerton. In 1941, the big star was Al Maul. He was just an athlete. A very fine first baseman who (eventually) played with the Bluejackets and stuff like that. He was about 6-3 and could jump, but he didn't have the fundamentals of the game. He was a player, and a good-looking guy, too. We had Engstrom, Harold Worland. He could run. Not a great jumper. But he could get up and own the floor like nobody else. Just had blinding speed. Devaney was a player. There are so many to remember. Ray Volz went to the University of Washington. He lived in Seattle and came back and forth on the ferry so he could play at Bremerton. Roger Wiley. Frank Wright was a very talented player. Good size. Good speed. (Art) McCarty. We just had a lot of kids who could play the game. Most teams didn't have that. In 1942 Hoquiam beat us (in the state championship game). They had a kid, Rich (Dick) Wittren, who won it for them. How many times do you tell your players don't stop until you hear the whistle? We had them going into the last minute or so. We thought we had them. This Wittren shot from the side, and at the (Hec Edmundson) Pavilion they had these gridders that came down. The ball hit one of those gridders and came back to the floor. I thought McCarty was going to pick it up. McCarty thought I was going to pick it up. Wittren picks it up, goes right in and makes the layin, and beats us (according to news account in the Bremerton Searchlight, a guy named Walt Haney scored the winning basket off a rebound, apparently off Wittren's missed shot). In 1941, we smothered St. John's. They had about 100 kids in school and we swamped them …. by two points (laughs). They had these Leifers. They were pretty good. (Irv Leifer and brother Bob were on that St. John's team. The 1952 state program describes Irv Leifer's efforts in that title game as maybe the best one-man tournament performance ever. He and his brother both scored 10 points. St. John's merged with Pine City High School in 1941. Irv Leifer would go on to set scoring records at Eastern Washington and would go on to win four state high school championships as coach at Renton, 1953, 60, 66 and 67. His 66 Renton team beat Port Angeles for the title). And very well coached. Wills put Wiley into the game late and we got a couple layins over the top. But they were very well coached and just played a beautiful game. But we won state. And it was sure fun to do it.
TSP: How did the scholarship to the University of Washington Happen?
LE: Well, we went to the state tournament when I was a sophomore, won it as a junior and as a senior should have won it. I made the all-state tournament team, we won the Cross-State League, and people were looking for guards. I was listed at 6-1, but was about 6-0. I could shoot the two-handed long shot from wherever you needed it. And the reason I had the two-handed shot was because I wanted to beat my coach, Ken Wills. I don't know if I ever beat him. I had a two-handed set-shot, both feet on the floor. I shoot it now and people would die from hysteria. By the time I coached at Camas (1950), if you shot a two-handed set-shot, people died laughing at you. So I forgot how to teach it. They recruited by mail a lot back then. I heard from (Howard) Hobson at the University of Oregon, (Amory) Slats Gill at Oregon State, got letters from Southern California, and all those people. I put them in a scrapbook and let them sit there. The whole difference at the time was the war. The war (World War II) was on, my dad was not well, and my mother wanted me to stay close to home so she could see me play. All of a sudden, Hec Edmondson was at the front door and he charms my mother. All of a sudden, I went there (to the UW). Hec Edmondson was a very nice, dignified man. He sat down and said, "This is what I can offer your son. We would like him there." He just sat there and smiled. Kids back then did what their parents said. I never did exactly what I wanted; I did whatever my parents wanted. It was a different time. There were no cars, no running around. I played basketball. Nobody in my family had a college education, so my mother was determined I would get one. I don't know what the hell good it did me. I should have gone in the shipyard and got a pension. I probably would have been away ahead money-wise working in the shipyard. But I wouldn't have been happy. I remember walking down the street when I heard on the radio that the Japanese had bombed Pearl Harbor. You ask kids now where Pearl Harbor is and they don't know. But back then you knew where Pearl Harbor was. I immediately knew what had happened. But what can you do? I just kept going. Gym was open at the high school (between 4th and 5th in Bremerton), so I played. I went to the U-Dub in 1942. Went almost a complete year. Then I got drafted in 1943. Was in the service from 1943-45. Never shot at. Christ, I would have died of heart failure. I was in the paratroops infantry, the 517th. I got hurt in the paratroops, sprained an ankle a couple times. So they sent me to field artillery in Oklahoma. I didn't like that, so took Air Corps exam. Passed that and went to Denver, Colorado. Was going to be a bombardier. Went to Lubbock, Texas. They washed everybody out. Casualties in day-light bombing (over Europe) had not come up to expectations; they hadn't killed enough of these guys, so I went back to Denver, Colorado and became an Air Armor, loading B-17s and training as a machine gunner. I had an uncle who lived in Denver, so it was nice to go to somebody's house and eat on Monday's with a pass-out. Then I got rheumatic fever and that ended everything. I came back to Fort Lewis. I had a heart murmur, swelling in my knees. They cut my pants off. Wills came down and looked at me. He called Dr. Schutt, who was in charge of the Naval Hospital (in Bremerton). They rushed me to the hospital. They thought I was a marine. Don't know how things got fouled up. So I stayed in the hospital almost 7 1/2 months until they found out I wasn't a marine. Once they found out I was actually in the Air Force, they transferred me back to Fort Lewis. The foul-up probably saved my life. Some snafus can save your life.
TSP: How was your career at the UW?
LE: First of all, I had a heart murmur and kind of a pension. They told me my sophomore year I could only play 12 minutes. Each year the time escalated as I got in better shape. This guy, Myers, who I really admired, said I couldn't play (because of his heart murmur). I told him, "Then I'm not going to school here. I came here to play basketball, and then be a coach, and if I can't play my future isn't very good. I'll just get the hell out of here and go to the Navy Yard if I have to." He thought it over and said, "Okay, but I'm going to the ballgames and watch you." He set the time limits to how much I could play. When we played at Oregon and Oregon State, I played more because he wasn't there watching me. I don't think I ever scored in double figures. Nobody did, except Sammy White (who was named to the UW All-Century Team for baseball; White caught in the major leagues with the Boston Red Sox). (Jack) Nichols was an All-American who came from Everett. He was a dentist in Seattle. He was about 6-8 or 6-9, very muscular, very intelligent. And White was a charmer, and a showboat. He could play the game. Bill Vanceburg was just a big horse out of Ballard. He just could rebound. Shot outside a little. Tough. Not a great player. I got a degree in health and physical education with a minor in English, then a master's degree in motivation at Central Washington.
Next : Part III, Eathorne goes to work, into coaching.